Product News: Electronic Components & Devices
High-Voltage LED offers viewing angle of 120°.
Press Release Summary: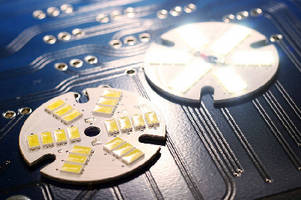 February 14, 2014 - Measuring 38 mm in diameter, TitanBrite High-Voltage, Low-Current LED comes in standard cool and warm white as well as custom colors. Built-in metal core PCB does not require additional heat sink components, resulting in real estate savings up to 50%. LED is suited for industrial, medical, commercial, and general purpose applications, such as inspection, backlighting, electronic signage, machine lighting, and parking garage fixtures.
Lumex, Inc., an ITW Electronic Component Solutions Company - Carol Stream, IL
Original Press Release
New Titanbrite LED Runs at Higher Voltage with Lower Current While Offering Bright Light Output
Press release date: February 4, 2014
Lumex technology provides up to 20% Cost and 50% Real Estate Savings
CAROL STREAM, IL – Lumex announces the global launch of its TitanBrite High-Voltage, Low-Current LED, the newest addition to the TitanBrite family of high-power LEDs. The TitanBrite High-Voltage, Low-Current LED can run at a higher voltage with a lower current than alternative technologies (such as a traditional10W LED) while providing up to 45% brighter light output and superior light distribution. This allows for up to 20% cost and 50% real estate savings for applications requiring low current, but high light output.
Though high-voltage, low-current LEDs provide key performance benefits for applications that use LED drivers that offer higher voltages to drive a high-power LED, few design engineers are aware that these technologies are available and can produce the comparable if not brighter light output.
TitanBrite High-Voltage, Low-Current LEDs are a good option for lighting and fixture designers for a number of applications across a wide range of industries including:
• Industrial: Inspection lighting; anywhere you use high voltage application, such as automated visual inspection, backlight sorting machines, and warning lights
• Medical: Spotlighting, backlighting (for x-rays), operating lighting
• Commercial: Backlighting for electronic signage (large illuminated ads at train stations, airport terminals and fast food restaurants), machine lighting, production lighting
• General: Lighting fixtures (parking garages), light arrays, spotlights   
Simplified Heat Dissipation = Real Estate & Cost Savings
Because a high-voltage LED (33 volts and up) runs at a lower current, it doesn't conduct as much heat, simplifying heat dissipation design considerations and ensuring less energy loss in heat generation and control. The need for bulky heat sync elements is eliminated as the high-voltage LED has a built-in metal core PCB and doesn´t require additional heat sync components. This results in real estate savings of up to 50% as well as up to 20% cost savings.
Power Conservation & Safety
The current level of an LED is a primary concern because power must be conserved, particularly for power-intensive applications. A low-current unit is also less hazardous than a high current one
Visual Performance
Light Distribution
This low-current LED design also offers greater light distribution than traditional standard LEDs that provide light in concentrated area or "hot spot". A cluster of LEDs offer a viewing angle of 120°, eliminating hot spot issues.
Brightness
The TitanBrite High-Voltage, Low-Current LED also offers up to 45% brighter light output than a traditional 10W LED. With almost double the amount of light in a single unit, the cluster array of LEDs are placed in a unique pattern, that allows the design to achieve this output.     
Lumex´s new TitanBrite High-Voltage, Low-Current LEDs measure 38mm in diameter and feature a 120° viewing angle. They are available in standard cool and warm white as well as custom colors. The technology is competitively priced at $10-15 per unit in production volumes, with lead times of 10 to 12 weeks.
Lumex Contact Information
For additional information or engineering assistance:
In North America and Europe, contact Lumex's Sales Department, 425 N. Gary Avenue, Carol Stream, IL  60188 USA.  Phone:  1-800-278-5666.  E-mail: 
lmxsales@lumex.com
Web: 
www.lumex.com
. 
In Asia, contact Lumex's Asian Pacific Headquarters at 3F, No. 972, Sec. 4, Chung Hsing Rd., Chu Dung, Hsin Chu County, Taiwan, ROC.  Phone: +886-3-582-1124.  FAX:  +886-3-582-1154. Web (in Chinese): 
www.lumex.com.tw
About Lumex
For over 30 years, Lumex, a member of the ITW Photonics Group, has been a global leader in the optoelectronics industry. With the broadest range of high efficiency, high performance LEDs and LCDs in the industry, Lumex provides thousands of standard products and specializes in semi-custom and custom designs.  Lumex's optical range encompasses a wide spectrum including UV, visible and infrared wavelengths. Lumex's team of Technical Design Specialists are experts in collaboratively developing effective, smart solutions from the most complex design dilemmas.
Lumex has a global footprint with the worldwide headquarters outside Chicago and the Asian headquarters in Taiwan. With manufacturing capabilities in the United States, China, Taiwan and Thailand, Lumex is able to support over 23 end markets with more than 80,000 customers both directly and through our distribution channel partners. Lumex received its initial ISO 9001 registration in 1996.
About the ITW Photonics Group
The ITW Photonics Group was created to bring together and build on the technical expertise of individual companies that specialize in photonics technology and span the full spectrum of wavelengths.  The group consists of:
• Lumex - LED and LCD technology
• ITW Linx – Surge protection technology
• Cal Sensors - IR Detector and Emitter technology
• Opto Diode Corp - LED, Silicon Photodiodes and Electro-Optical Assembly technology
The synergy of these industry front-runners provides an unsurpassed range of photonic capabilities within a broad spectrum of markets, including medical, military and industrial controls.  The ITW Photonics Group provides integrated solutions that encompass the technology and experience from all three business units, offering design engineers higher performance with greater feature enhancements. For more information on the ITW Photonics Group, go to
www.itwphotonicsgroup.com