Product News: Electrical Equipment & Systems
High-Current DC Interference Filter serves PV systems.
Press Release Summary: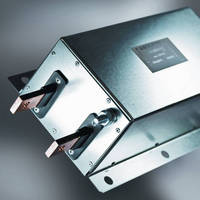 January 23, 2013 - Offered without ground capacitors to safely prevent any leakage of current to ground, FMER SOL series is designed for use on DC side of inverter in photovoltaic (PV) and other DC systems. Products are designed for rated currents from 25–2,300 A with standard ambient temperature rating of 55°C. Series is also rated at 75°C ambient up to 1,200 Vdc with corresponding current de-ratings. Screw clamps are offered for types up to 150 A and copper bars are offered for types upwards of 250 A.

Original Press Release
New High-current DC Interference Filter FMER SOL for Photovoltaic Systems
Press release date: January 21, 2013
DC Filter limits noise generated on the DC side of the Inverter

Santa Rosa, California - SCHURTER presents its new 2300 A FMER SOL interference filter. In addition, the series is now offered without ground capacitors to safely prevent any leakage of current to ground. The series is designed for use on the DC side of the inverter in photovoltaic and other DC systems.

Maximum Power Point (MPP) trackers generate disturbances into both the grid's AC power line, as well as the DC side of the solar module. An AC filter is typically used on the grid's AC power line, but the noise generated on the DC side tends to be overlooked. EMC standards EN 61000-6-3 and EN55014-1 also place strict limits on the noise generated downstream from the grid, such as the line to the solar panels. Using the FMER SOL DC filter on the DC side of the inverter ensures EMC compliance and thus overall reliability of the entire PV system.

Large solar inverters exposed to high temperature operating environments generally require a cooling system. The FMER SOL provides high temperature resistance to simplify the system and reduce the energy needed to cool. Accordingly, the FMER SOL filters are designed for rated currents from 25 A to 2300 A with a standard ambient temperature rating of 55°C; The series is also rated at 75ºC ambient temperature up to 1200 VDC with corresponding current de-ratings.

The DC filter is cURus approved at 600 VDC for the 25-150A versions and 1000 VDC for the versions rated 250-2300 A. The FMER SOL DC filters are equipped with screw clamps for types up to 150 A and copper bars for types upwards of 250 A. Other types of connections, such as wires or copper bars <250 A, are available on request. Small adjustments can also be made to customize the electrical circuit or the filter housing on request.

More information on the FMER SOL can be found on the SCHURTER website at http://www.schurterinc.com/new_emc. For sales and product information contact Cora Umlauf at 800 848-2600 or info@schurterinc.com.

About SCHURTER Inc.
SCHURTER is a progressive innovator and manufacturer of Circuit Protection, Connectors, Switches, and EMC Products to the electronic and electrical industries worldwide. SCHURTER's three divisions: Components, Input Systems and Electronic Manufacturing services are formed to provide customer specific products and services, which focus on clean and safe supply of power and making equipment easier to use. These core competencies bring a high degree of innovation to SCHURTER's main markets IT / Telecom, Medical, Space and Renewable Energy.

SCHURTER meets its customers' highest demands through certified quality, environmental and safety management systems including ISO 9001, ISO 14001, OHSAS 18001 and highly developed processes (Six Sigma method). Excellent services are upheld through the consistent application of an all encompassing quality management system.

SCHRTER Inc., Santa Rosa, California is the exclusive North America sales and distribution office for the SCHURTER Group.

SCHURTER INC.
447 Aviation Boulevard
Santa Rosa, CA 95403
Telephone 707 636 3000
Facsimile 707 636 3033
www.schurterinc.com