Product News: Test & Measuring Instruments
Headspace Analyzer concurrently handles two kinds of gases.
Press Release Summary: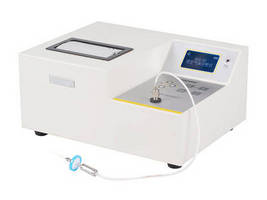 June 13, 2014 - Able to be used in various environments, HGA-02-Headspace Gas Analyzer features automatic and manual sampling and can simultaneously analyze oxygen and carbon dioxide. Minimal manual injection enables analysis of small-scale packaging, while probes, airproof gasket, and filter improve response and sampling time to ensure valid and reliable test data. With extended life expectancy gas sensors, portable system is rated for at least 6 years of normal use and also offers printing function.
Labthink International, Inc. - Medford, MA
Original Press Release
Headspace Gas Analysis and Quality Control
Press release date: June 12, 2014
Oxygen and water vapor is the main factors influencing the product shelf-life. Some study found that, by controlling the composition ratio of the gas inside the packaging, products shelf-life can be extended or at least the quality of products can be improved. This has become the impetus of the rapid development and applications of barrier films. However, it is worth noting that the leak of gas filling inside the packaging (MAP and CAP packaging barely use oxygen to fill) will cause the increase in the proportion of oxygen.
The latest HGA-02-Headspace Gas Analyzer from Labthink, it draws the advantages from desktop and portable devices, with many exclusive features. First of all, it is able to analyze two kinds of gas- oxygen and carbon dioxide. Its accuracy and range excel to be the first class around the globe. Secondly, the automatic sampling and manual sampling, two sampling methods are exclusive. It can analyze oxygen and carbon dioxide content at the same time. Its minimum amount of manual injection has reached the highest level internationally, making the analysis of small-scale packaging possible. Third, the equipment of special probes, airproof gasket and filter, improve the response and sampling time, which is the guarantee of valid and reliable test data. Fourth, with the gas sensors of the longest life expectancy around the world, it meets at least 6 years of normal use. Fifth, although the HGA-02-headspace gas analyzer is larger than the average size of portable devices, but it has printing function which average portable devices do not have. Labthink equipped it with professional, portable tool box so that it can be easily used in various environments and conduct quick analysis.
Detailed information, pls contact Labthink International Co., Ltd via
http://www.labthinkinternational.com.cn/