Product News: Sensors, Monitors & Transducers
Flaw Detector provides numerous TOFD capabilities.
Press Release Summary: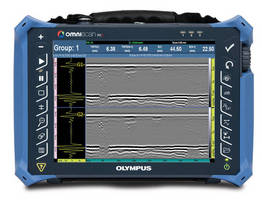 November 20, 2012 - OmniScan MX2 supports 2-channel conventional ultrasound module (UT2), which can be used for TOFD (Time-of-Flight Diffraction) inspections, and onboard software featuring TOFD-specific capabilities/features. In addition to pulser voltages (340 V), PRF capabilities, and SNR, features include TOFD wizard, PCS calibration tool, multiple TOFD screen layouts, Lateral Wave straightening function, and B-scans that facilitate setups as well as improve acquisition displays and defect sizing.
Olympus Scientific Solutions America - Waltham, MA
Original Press Release
Olympus NDT Introduces New TOFD Capabilities for the OmniScan MX2 Flaw Detector
Press release date: November 19, 2012
Olympus NDT, a world leader and pioneer in industrial ultrasound phased array instrumentation, is pleased to introduce the latest hardware and software advances for the innovative OmniScan MX2 flaw detector. Olympus now offers a second generation, 2-channel conventional ultrasound module (UT2) that can be used for TOFD (Time-of-Flight Diffraction) inspections. Also updated is the OmniScan MX2's onboard software with numerous TOFD-specific improvements to maximize performance. Together, the new module and software will set a new industry standard for TOFD inspections. TOFD is a unique ultrasonic technique that utilizes time-based signal information for flaw sizing in place of a traditional amplitude-based sizing approach. TOFD can therefore size defects more reliably regardless of the orientation of the crack by utilizing the more consistent time-based information.

The new 2-channel UT module is a completely redesigned hardware platform, which introduces a host of new improvements as compared to the previous generation. Higher pulser voltages (340 V), increased PRF capabilities, and dramatically improved signal-to-noise ratio are just a few examples of enhancements that take the OmniScan MX2 to a new level of TOFD performance. In addition, a TOFD wizard, a PCS calibration tool, multiple TOFD screen layouts, Lateral Wave straightening function, and crisper B-scans on the software side bring faster and simpler setups, improved acquisition displays, and overall better defect sizing capabilities.

To further complement the OmniScan MX2 TOFD capabilities, Olympus NDT is pleased to announce an additional dedicated TOFD scanner, the HST-Lite, which optimizes size, features, and cost where it matters most in TOFD inspections. Magnetic wheels and spring-loaded probe holders enable one-hand operation and permit upside-down scanning on ferromagnetic surfaces. While the addition of the 340 V pulser voltage of the new UT2 module often negates the need for a preamplifier, the HST-Lite can also accept a scanner-mounted preamplifier if the specific application setup requires the use of one.

Olympus NDT also offers new stainless steel TOFD wedges that offer great wear resistance and durability without the need for carbide wear pins, and superior coupling due to the absence of the carbide wear pins. They also offer a superior approach distance for closer placement to a weld crown as compared to common Rexolite wedges. These TOFD wedges have identical transducer thread patterns to the Rexolite wedges and are compatible with the complete line of Olympus TOFD transducers.

Lastly, Olympus NDT is pleased to introduce an additional new set of TOFD wedges for use with the low-profile COBRA scanner. When used with the COBRA scanner, these Rexolite wedges enable an operator to perform a TOFD inspection of pipes from 1.00 in. (25.4 mm) to 4.5 in. (114 mm) in areas with reduced clearance around the circumference of the pipe.

About Olympus NDT
Olympus NDT is a world-leading manufacturer of innovative nondestructive testing instruments that are used in industrial and research applications ranging from aerospace, power generation, petrochemical, civil infrastructure, and automotive to consumer products. Leading-edge testing technologies include ultrasound, ultrasound phased array, eddy current, eddy current array and X-ray fluorescence. The Olympus NDT product lineup includes flaw detectors, thickness gages, in-line systems, automated systems, industrial scanners, analyzers, pulser-receivers, probes, transducers, and various accessories. Olympus NDT is also a distributor of remote visual inspection instruments and high-speed video cameras in the Americas. Olympus NDT is based in Waltham, Massachusetts, USA, and has sales and service centers in all principal industrial locations worldwide.

For more information please contact:
Meindert Anderson
Corporate Manager, Marketing Director
Olympus NDT
(1) 781-419-3562
Meindert.anderson@olympusNDT.com
Web: www.olympus-ims.com