Product News: Adhesives & Sealants
Epoxy Resin resists temperatures up to 500°F.
Press Release Summary: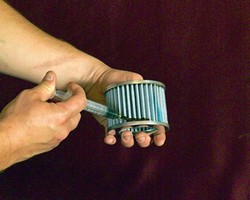 March 31, 2008 - Designed for use in high performance composite structures and potting/casting applications, polyfunctional epoxy resin EP34CA can be combined with hardeners to provide low viscosity liquid which is suited for filament windings. Mechanical properties vs. time/temperature of unidirectional graphite composites based on Modmore Type II T fiber and matrix of EP34CA/EP34C yield flexural strength of 236,000 psi, flexural modulus of 17.8 x 106 psi, and interlaninar shear strength of 12,700 psi.
Original Press Release
Epoxy for High Performance Filament Wound Structures Resists up to 500°F
Press release date: March 26, 2008
Hackensack, NJ. March 26, 2008, 2008-Master Bond Inc., has developed EP34CA, a polyfunctional, heat resistant epoxy resin designed for use in high performance composite structures and in potting and casting applications. When used in conjunction with select hardeners, EP34CA produces a low viscosity system which is particularly well suited for filament windings of glass, graphite and Kevlar® fibers and boron composites as well as pultruded structures. Cured composite structures have a high glass transition temperatures (Tg), outstanding elevated temperature properties, superior chemical resistance and good radiation resistance. It can be used up to 260°C (500°F) service temperatures. When used as a matrix system for graphite composites, EP34CA exhibits very good initial properties and good retention of those properties up to 200°C. The mechanical properties versus time and temperature of unidirectional graphite composites based on Modmore Type II T fiber and a matrix of EP34CA/EP34C yield a flexural strength of 236,000 psi (1630 MN/m²) a flexural modulus of 17.8 x106 psi (123 GN/m²) and interlaninar shear strength of 12,700 psi (87.5 MN/m²). Systems based on EP34CA exhibit long working life at room temperature when formulated with aromatic amine or anhydride hardeners. When Master Bond EP34CA is combined with hardener Master Bond EP34B, it provides a manufacturer with a low viscosity liquid with a pot life of at least 2 hours at 25°C. When combined with aromatic hardeners such as EP34C, it gives a low viscosity liquid with a pot life of 8 hours at 40°C and 24 hours at 25°C. About Master Bond: Master Bond is a manufacturer of high performance adhesives, sealants, coatings, potting and encapsulation compounds and impregnation resins. The product line offers over 3,000 grades of specially designed formulations of acrylics, anaerobics, cyanoacrylates, epoxies, latex, polyamides, polyurethanes and silicone systems to provide an optimal solution for even the most extreme applications. This product is custom manufactured and packaged to the customer's specifications when the order is placed, as such; pricing varies tremendously based on the quantities and packaging type ordered. A rough bid would be $350 - $500 for minimal quantities with substantial discounts for volume purchases. For further information please visit our website at
www.masterbond.com
or contact: James Brenner Phone: 201-343-8983 Fax: 201-343-2132 E-mail: technical@masterbond.com