Product News: Electrical Equipment & Systems
Electronic/Electrical Enclosures come in multiple variations.
Press Release Summary: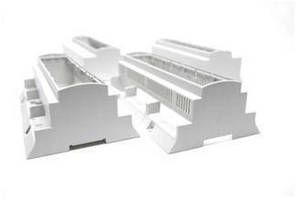 March 10, 2014 - Italtronic Srl electronic enclosures include DIN Rail mount, wall mount, handheld, and panel mount versions that are customizable to requirements. Available in 2, 3, 4, 5, 6, 8, 9, and 12 modules, DIN rail-mounted Modulbox XTS comes in A, B, and C versions which offer various options regarding internal space for components. Range of panels and terminal covers are available, as well as such customization options as through printing and machining, to suit application at hand.
Original Press Release
Hitaltech are Pleased to Announce that their Range of Products Suited Towards Electronic and Electrical Applications are Now Available via Beyond Components and Nedco Electronics (Beyond Google+ Page)
Press release date: February 26, 2014
With 19 Distribution locations across North America, Beyond Components are able to service the requirements of Hitaltech's US customers as well as assist in the generation and management of new opportunities.
Hitaltech's range includes electronic enclosures (manufactured by Italtronic Srl.) comprising of DIN Rail mounting enclosures, Wall mounting, hand held and panel mount which can be customised to meet customer specific demands.
The DIN rail mounting range of enclosures includes the popular Modulbox XTS product.
Available in 2,3,4,5,6,8,9 & 12 modules the Modulbox XTS is an ideal enclosure solution for applications within the energy metering, building automation and industrial control market. The enclosure is available in an A, B & C Version giving the design engineer various options regarding internal space within the enclosure for components.
With a range of panels and terminal covers available to suit the application as well as customisation options available (through printing and machining), Beyond will be able to offer the end customer and enclosure which meets the technical of design engineers as well as the aesthetical requirements for sales and marketing.
Modulbox XTS DIN Rail mounting enclosures available in A, B & C version
As well as offering enclosures for electronic applications Beyond have also added Hitaltech's range of Flexible interconnect cables (for applications requiring a vibration and stress resistance interconnection between two printed circuit board) and their extensive range of PCB mounted terminal blocks and connectors. This range of interconnect products is available in both Rising Clamp and Spring Clamp mechanisms across a range of pitches from 2.5mm to 12.7mm.
'Hitaltech are excited to be working with Beyond Components/Nedco Electronics. Their product range is extremely synergetic to ours making them an ideal distribution partner for Hitaltech. Between our companies there is excellent knowledge of the product and the market allowing us to offer the end customer both excellent customer support and service.' Explains Hitaltech USA's marketing Manager, Tara Fisher.
Italtronic Srl. & Hitaltech
Italtronic Srl. based in Padova, Italy design and manufactures an innovative range of plastic enclosures to meet the needs of electronic and electrical applications across varying industries.
Hitaltech are pleased to be the appointed technical sales, marketing and master distributor for the US market.
Through our knowledge and experience of the product Hitaltech aim to offer design engineers an Italtronic product which can meet both aesthetical and technical requirements.
Beyond Components/Nedco Electronics
Beyond Components is the electronics distributor the nation turns to for high quality electronic and electro-mechanical products, impeccable customer service (no one in the industry even comes close) and low pricing. Beyond carry more than 260 franchised brands which include: Terminal blocks, Relays, Switches, Fans, LEDs, LCDs, Displays, Circuit breakers, Connectors, EMI, RFI Filters, Power Supplies and much more.
www.beyondcomponents.com
Further information on Hitaltech's range of products can be found by visiting
http://www.hitaltechusa.com/