Product News: Sensors Monitors & Transducers
Electromagnetic Flowmeter offers cellphone access.
Press Release Summary: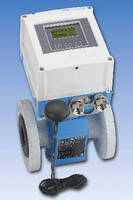 September 24, 2012 - Featuring GSM/GPRS cellphone wireless capability for data communications and configuration, battery-powered Promag L800 is suited for flow measurement in remote water and wastewater systems. Once configured, operator at central control room can receive alarms, query totalizer readings, and change flowmeter configuration. Available in sizes from 2–24 in., Promag L800 operates at pressures to 232 psi with maximum flow rate of 33 ft/sec and accuracy of 0.5% of reading.
Original Press Release
Endress+Hauser Releases Promag L800 Electromagnetic Flowmeter with Cellphone Access
Press release date: September 13, 2012
Ideal for use in remote water applications, the battery-powered L800 flowmeter has integrated GSM/GPRS cellphone wireless capability for data communications and configuration.
Endress+Hauser released the Proline Promag L800 battery-powered electromagnetic flowmeter, an ideal flow measurement device for use in remote sites in water and wastewater systems. The flowmeter has an integrated GSM/GPRS cellphone system that allows data, such as alarms or totalizer counts, to be transmitted as an email over the cellphone network.
The flowmeter's GSM/GPRS system (Global System for Mobile Communications and General Packet Radio Services) is a mobile communications technology that works world-wide. All the flowmeter needs is a cellphone Subscriber Identity Card  (a portable memory chip, called a SIM Card) from the local cellphone provider. The flowmeter can then be configured as a point-to-point connection, or as a modem that can be openly accessed via the Internet or a company Intranet.
Once configured, an operator at a central control room can receive alarms, query totalizer readings, and change the flowmeter configuration. The flowmeter's built-in data logger saves data on a 2GB SD card, and can be configured to send emails periodically (such as once a day), with a CSV file attached to the email. The flowmeter can be programmed to generate an alarm email only if flow deviates from setpoint, eliminating the need for continuous monitoring, and reducing cellphone charges.
The integrated data logger records time, date, totalizer counter readings, positive and negative totals and partials, flow, measuring cycles per hour, state of battery charge and temperature of the electronics board. Data is saved daily on the micro SD card and can be loaded into a PC or laptop for evaluation, or it can be transmitted by the GSM/GPRS modem.
The Proline Promag L800 uses three sets of size D Lithium-thionyl chloride high-power batteries that last for 15 years. If the voltage in one set of batteries becomes too low, the flowmeter will send an alarm message and switch to a backup set of batteries. The flowmeter can also be powered by an external electrical supply.
The flowmeter is available in sizes from 2-24 in., operates at pressures up to 232 psi, and works with liquids having a minimum conductivity ≥50 µS/cm. Maximum flow rate is 33 ft/sec. The transmitter housing is made from polycarbonate with a choice of HR, PU or PTFE lining—and has KTW, WRAS, NSF and ACS international drinking water approvals.
Accuracy is 0.5% of reading, with repeatability of 0.2%. The electromagnetic measuring principle is not affected by pressure or temperature, and the flow profile has only a marginal effect on accuracy.
The Promag 800 flowmeter is available in two models—the Promag 800, where the flowmeter and transmitter are one unit, and the Promag 800L, where the transmitter is located remotely from the flow sensing unit.
Promag flowmeters are built and calibrated at the Endress+Hauser factory in Greenwood, Indiana. Endress+Hauser supports the flowmeters with calibration, startup  and a 24-hour Help Desk.
For more information on the Promag 800 flowmeter, please go to the product page at 
www.us.endress.com
/promag-400-800
About Endress+Hauser
Endress+Hauser is one of the world's leading suppliers of measuring devices, services and solutions for industrial process engineering. In 2011, the company group recorded sales of approx. 1.9 billion dollars with more than 8,800 employees. Endress+Hauser supplies sensors, devices, systems and services for level, flow, pressure and temperature measure¬ment as well as liquid analysis and measured value recording. The company supports its customers with automa¬tion, logistical and IT services and solutions.
Contact: Crystal Abrell
Market Content Development Manager
Endress+Hauser, Inc.
Phone:  317-535-7138
Fax:  317-535-2171
crystal.abrell@us.endress.com
www.us.endress.com