Distributed I/O System features modular, scalable design.
Press Release Summary: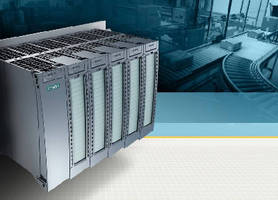 December 17, 2012 - With Simatic ET 200MP, up to 30 I/O modules can be inserted into each station, each of which can comprise up to 32 channels. System features low parts variance and 35 mm wide front connector that is standardized for all modules. Thanks to standardized modular and diagnostic LEDs with direct 1:1 assignment of terminal and labeling, device retains clear structure, even when fully configured. Channel-specific diagnostics enable process errors to be identified unambiguously.
Original Press Release
Distributed IO System with High Channel Density and Low Parts Variance
Press release date: November 27, 2012
The new Simatic ET 200MP distributed IO system from Siemens Industry Automation Division is characterized by its modular and scalable station design. The IO modules are also able to be used for central automation tasks with the new Simatic S7-1500 controllers, offering the user simple handling and storage options. As many as 30 IO modules can be inserted into each station, each of which can comprise up to 32 channels. In addition to this high channel density, the user also benefits from low parts variance and a 35 mm wide front connector that is standardized for all modules. This considerably simplifies the ordering, installation, logistics and storage of spare parts. Thanks to standardized modular and diagnostic LEDs with a direct 1:1 assignment of terminal and labeling, the device retains a clear structure even when fully configured. With channel-specific diagnostics, process errors are able to be identified quickly and unambiguously.

The Simatic ET 200 MP is easy to assemble and to wire. In addition, the front connector's pre-engaged position facilitates convenient pre-wiring of the module. The expandable cable storage space also accommodates cables with large cross-sections or thick insulation. This keeps the IO station clear and creates a standardized appearance in the control cabinet. The integrated shielding concept for analog modules ensures a high level of robustness against electromagnetic interference, and the high-speed backplane bus of the Simatic ET 200MP is tailored to Profinet, thus supporting particularly fast response times.

More information is available on the Internet at: http://www.siemens.com/et200mp
Press information is available on the Internet at:
http://www.siemens.com/press/industryautomation/pressreleases

The Siemens Industry Sector (Erlangen, Germany) is the world's leading supplier of innovative and environmentally friendly products and solutions for industrial customers. With end-to-end automation technology and industrial software, solid vertical-market expertise, and technology-based services, the Sector enhances its customers' productivity, efficiency, and flexibility. With a global workforce of more than 100,000 employees, the Industry Sector comprises the Divisions Industry Automation, Drive Technologies and Customer Services as well as the Business Unit Metals Technologies. For more information, visit http://www.siemens.com/industry

Media Relations: Gerhard Stauss
Telephone: +49 911 895-7945
E-mail: gerhard.stauss@siemens.com
Siemens AG
Industry Sector - Industry Automation Division
Gleiwitzerstr. 555, 90475 Nuremberg, Germany

The Siemens Industry Automation Division (Nuremberg, Germany) supports the entire value chain of its industrial customers – from product design to production and services – with an unmatched combination of automation technology, industrial control technology, and industrial software. With its software solutions, the Division can shorten the time-to-market of new products by up to 50 percent. Industry Automation comprises five Business Units: Industrial Automation Systems, Control Components and Systems Engineering, Sensors and Communications, Siemens PLM Software, and Water Technologies. For more information, visit http://www.siemens.com/industryautomation