Product News: Material Handling & Storage
Data Center Cabinet combines capacity, cooling, and power.
Press Release Summary: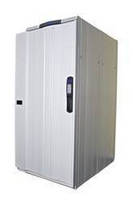 May 21, 2014 - Supporting IT equipment while minimizing space requirements, T4 Mini Data Center comes in single- or multi-cabinet versions with chilled water or direct expansion DX cooling. Each complete and self-contained solution employs ServerSmart cabinet for universal housing of 19 in. rack mountable equipment as well as PDUs and UPSs. Available with up to 25 kW per cabinet as standard or 60 kW optionally, products offer security via CannonGuard management system.
Original Press Release
Small is Beautiful with Cannon T4's Mini Data Centre
Press release date: May 14, 2014
Cannon T4 Inc (part of Cannon Technologies), the international leader in innovative containment systems, has announced the expansion of its pioneering T4 Data Center Solutions range with the T4 Mini Data Center. Designed to provide state-of-the-art support for IT equipment without the need for large amounts of space, the T4 Mini Data Center is suitable for use in a wide range of vertical sectors.
This complete, self-contained and highly resilient solution is available in single or multi-cabinet versions that can be sited in offices, rooms, corridors or even basements. Central to the T4 Mini Data Center is Cannon Technologies' ServerSmart cabinet, which provides the perfect environment for the universal housing of all kinds of 19-inch rack mountable equipment, as well as power distribution units (PDUs) and uninterruptible power supplies (UPS).
Available for low power supply or high-density power, T4 Mini Data Centers are available with up to 25kW as standard, with options up to 60kW per cabinet. Security is provided thanks to the CannonGuard management system, which provides software based local and remote access control. Alarms are generated if unauthorised entry is attempted or an unusual condition or problem is detected and the entire T4 Mini Data Center can be controlled and monitored with T4 Data Center Manager software. What's more, a hush kit option is also available, which reduces the already low noise emission for sensitive locations.
Being able to deal with the generation of heat is a big issue for data centers and T4 Mini Data Center is available in either chilled water or direct expansion DX cooled versions, both of which maximise power usage effectiveness (PUE).
Cannon Cool chilled water cooling units work on the air to water heat exchanger principle – warm air from a cabinet is forced through a heat exchanger fan coil by high efficiency fans, where it is then cooled using water. Delivering up to 30kW of cooling, the DX system can be mounted on the side of the rack to form a closed system. Warm server air is drawn in directly from the rear of the rack and cooled air is blown back in front of the 19-inch equipment level from the side, over the whole height of the cabinet.
Multi-cabinet systems can also utilise a DX system for within row cooling (WIRC), which is especially effective at dealing with power intensive workloads such as blade servers. With a footprint of just 200mm, compared with the standard 300mm system, it provides highly effective precision cooling in the narrowest and hence least space consuming unit on the market.
All IT hardware can be pre-configured, integrated and 'ready to go' – eliminating delays caused by multi-vendor involvement. This can save considerable amounts of time and money, and training expertise is also provided to help customers get the most from the T4 Mini Data Centers.
Mark Hirst, head of T4 Data Center Solutions at Cannon Technologies, commented, 'The T4 Mini Data Center is the perfect solution for applications where there is very little space and minimal IT support and maintenance is available. We have used our considerable in-house experience and expertise to make sure that it contains the type of best in class technology and functionality found in much larger data centers.'
ABOUT CANNON T4 Inc
With a 36 year pedigree, Cannon T4 Inc. provides T4 Data Center Solutions around the globe - from building complete data centers as turnkey projects up to TIA 942 Tier 4; to suites of intelligent, environmentally managed infrastructure   racks, including cold-aisle cocooning, per-rack access control, video surveillance, intelligent power distribution and UPS. At top turnkey level Cannon designs, supplies, integrates and commissions the IT architecture for military and commercial applications, for mission critical projects. For more information visit:
www.cannont4inc.com
Debby Freeman
Communicator
( +44 (0) 1487 843366 (Office)
( +44 (0) 7778 923331 (Mobile)
skype: debby.freeman1
*  
debby.freeman@communicator-marketing.co.uk
www.communicator-marketing.co.uk