Product News: Labels Tags Signage & Equipment
Center Punch measures angles and marks pipes.
Press Release Summary: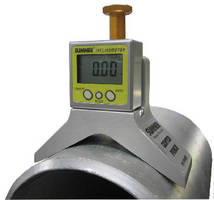 March 14, 2014 - Featuring digital inclinometer gauge set on angled base, Sumner Center Punch is designed for measuring angles on pipe. Gauge displays angles to nearest hundredth, is removable from magnetic base, and includes zero button. Once desired angle is reached, pushbutton spring-loaded striking hammer clearly marks pipe at desired locale.
Sumner Manufacturing Co., Inc. - Houston, TX
Original Press Release
Sumner Manufacturing Announces Sumner Center Punch
Press release date: March 5, 2014
Sumner Manufacturing, the industry leader in pipe and material handling equipment, announces Sumner Center Punch for quickly measuring angles and marking pipe.
Houston, TX — Sumner Manufacturing introduces the Sumner Center Punch. The Sumner Center Punch includes a digital inclinometer gage set on an angled base, ideal for measuring angles on pipe. The easy to read digital gage displays angles to the nearest hundredth and is removable from the angled magnetic base. The angled base contains a push button spring-loaded striking hammer for clearly marking pipe at the desired locale.
"Sumner's Center Punch introduces a flexible, easy-to-read, easy-to-use tool for marking angle on pipe that has yet to be matched in the industry," states Sumner National Sales Manager, Brendan Conway. "The removable gage really makes the Sumner Center Punch a 3-in-1 tool."
The Sumner Center Punch is easy to use. Simply set the base on the pipe, turn on the inclinometer gage and adjust as needed until the desired angle is reached. Pull up the spring-loaded hammer and press the push button on the angled base to mark pipe. The inclinometer also includes a "zero" button to reset the angle to zero.
For more information visit
http://www.sumner.com
.
About Sumner Manufacturing Co., Inc.:
Founded in 1965 in Houston, TX, Sumner Manufacturing has served the welding and mechanical contracting industry for nearly a half century, creating high quality material lifts, jack stands, pipe fit-up clamps, welding tools, and material carts that are currently used daily in more than 50 countries around the world in numerous industries. All Sumner products are built with the concept of providing safe, common sense tools which are priced right. Sumner Manufacturing maintains offices in Houston, TX, Canada, China, the UK and the Netherlands.
Contact:
Les Thomas, Marketing Coordinator
Sumner Manufacturing Co., Inc.
281-999-6900 ext. 103
lthomas@sumner.com
http://www.sumner.com