Product News: Mechanical Components and Assemblies
Carbon-Graphite Blanks are impregnated with thermal setting resin.
Press Release Summary: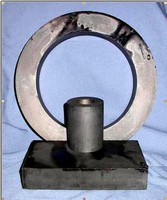 April 28, 2008 - Metcar® Grade M-400, CS Series Blanks for general duty applications and Metcar® Grade M-106, HS Series Blanks for high-load, high-speed applications are machineable with conventional tungsten carbide or diamond tools. Suited for machining mechanical seal rings, bearings, and vanes, blanks offer lubrication when running in low viscosity liquids from -400 to +500°F.
Metallized Carbon Corp. - Ossining, NY
Original Press Release
Machineable, Resin Impregnated, Carbon-Graphite Blanks for Mechanical Seals and Bearings
Press release date: April 24, 2008
Metallized Carbon Corporation offers machineable, resin impregnated, carbon-graphite blanks for companies that need to machine mechanical seal primary rings, radial bearings, thrust bearing, case wear rings, or pump vanes on an emergency basis.
The machineable blanks are made from fine-grained, high strength, molded carbon-graphite that is fully impregnated with chemically resistant, thermal setting resin. The material has excellent lubricating qualities when running in low viscosity liquids in the temperature range between -400°F and over 500°F. The blanks are readily machineable with conventional tungsten carbide or diamond tools. Mechanical seal rings, bearings, and vanes machined from these blanks are impervious to high-pressure liquids. The material is dimensionally stable so that mechanical seal ring faces can be polished to one Helium light band flatness, and the flatness is retained indefinitely. The material is chemically resistant to almost all liquids except extremely strong, oxidizing acids and alkalis.
Forty-nine standard cylinder sizes are available to cover mechanical seal ring and bearing sizes up to 10-15/16 inch outside diameter by 3-1/8 inches long. Blocks 4-5/8 inch wide by 8 inch long by up to 2 inches thick are also available.
Two different Metcar, machinable, blank grades are kept is stock to cover a wide range of applications. Those grades include Metcar® Grade M-400, for general duty applications (CS Series Blanks), and Metcar® Grade M-106, for high load, high speed applications (HS Series Blanks).
About Metallized Carbon Corporation Since its inception in 1945, Metallized Carbon Corporation has been manufacturing high-quality, dependable bearing solutions for severe operating environments. With over 60 years of Application Engineering experience, Metallized Carbon offers the field expertise and data necessary to provide The Solid Choice for Lubrication(TM) in a wide variety of industries, supplying completely machined components as well as materials for customer machining. Metallized Carbon is ISO certified and produces the Metcar® brand of solid, oil-free, self-lubricating materials.
For additional information about the company and its services, please visit us online at
www.metcar.com
or call (914) 941-3738.