Product News: Vision Systems
Bright, Wide Angle Lens work in challenging situations.
Press Release Summary: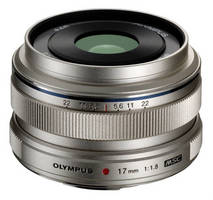 November 29, 2012 - Able to capture subjects in low-light environments, Micro Four Thirds® M.ZUIKO® DIGITAL 17 mm f1.8 lens has 9 lens elements in 6 groups to deliver sharp images of subjects. Optical system features 3 aspherical lenses, including Dual Super Aspherical element to correct aberrations and High Refractive index lens to correct high spherical aberrations. At 1.4 in. long, lens also features MSC autofocusing mechanism and Snapshot Focus mechanism for pan focusing with distance indicator.
Olympus Scientific Solutions America - Waltham, MA
Original Press Release
Olympus Introduces a New Bright F1.8 Micro Four Thirds® Lens for Brilliant Snapshots in Challenging Situations
Press release date: November 15, 2012
New M.ZUIKO® DIGITAL 17mm f1.8 High-Grade Lens Easily Captures Spontaneous Moments in Remarkable Detail

CENTER VALLEY, Pa. – Today, Olympus adds to the Micro Four Thirds family of lenses with the release of the M.ZUIKO DIGITAL 17mm f1.8 lens (34mm in 35mm equivalent), a bright, wide-angle, single-focal-length lens ideal for snapshot street shooting, landscape photography or capturing subjects in challenging low-light environments. This high quality, compact lens features a stunning metal body and a Snapshot Focus mechanism for pan focusing with a distance indicator.

The M.ZUIKO DIGITAL 17mm f1.8 has nine carefully placed lens elements in six groups to deliver sharp images of subjects with beautiful, eye-catching depth of field. The advanced optical system features three aspherical lenses, including a Dual Super Aspherical element to correct aberrations, as well as a High Refractive index lens to correct high spherical aberrations. Each lens element is polished to an ultra-high level of working precision only possible with the progressive techniques developed by Olympus master craftsmen, and carefully assembled to ensure maximum accuracy and reliability. Olympus' exclusive ZERO (ZUIKO Extra-low Reflection Optical Coating) lens coatings are applied to the elements to reduce lens flare and ghost images even when shooting against the light.

The Snapshot Focus mechanism lets users easily take spontaneous, blur-free images by shifting the focusing point to a specific distance. Sliding the focus ring back reveals range markings on the lens barrel, including distance and depth of field scales, which can be used as guides as the user adjusts the focal distance by rotating the ring.

With a total length of just 1.4 inches, the M.ZUIKO DIGITAL 17mm f1.8 is incredibly compact and adds to the rapidly growing lineup of Olympus Micro Four Thirds lenses that enhance the performance and versatility of Olympus OM-D® and PEN® Compact System Cameras. The sophisticated, textured metallic finish projects a stylish, classic look that complements the design of Olympus® compact system cameras.

Ideal for capturing brilliant still images and high-definition (HD) videos, the lens employs Olympus' proven MSC (Movie & Still Compatible) autofocusing mechanism featuring an inner focus system to drive this single-focal-length lens for fast and quiet focusing.

The optional LH-48B Lens Hood and LC-48B Lens Cap are designed exclusively for the M.ZUIKO DIGITAL 17mm f1.8 and both are elegant in design with a finely textured metallic outer finish and distinctive, classic appearance. The Olympus VF-1 optical viewfinder, originally developed for use with the M.Zuiko Digital 17mm f2.8 lens, is also compatible with the new lens.

U.S. Pricing and Availability
The Olympus M.ZUIKO DIGITAL ED 17mm f1.8 Lens will be available in December.

Estimated Street Price: $499.99

For a complete list of specifications, visit the Olympus website: http://www.getolympus.com/us/en/lenses/m-zuiko-digital-17mm-f1-8.html

Journalists interested in more information, review units and high-resolution images of the M.ZUIKO DIGITAL 17mm f1.8 lens should contact Keith Gordon, Mullen Public Relations, 212-885-3218, keith.gordon@mullen.com, or Jennifer Colucci, Olympus Imaging America Inc., 484-896-5719, jennifer.colucci@olympus.com, or visit the Olympus website: http://asset.olympusamerica.com/login/

ABOUT OLYMPUS IMAGING AMERICA INC.
Olympus Imaging America Inc. is a precision technology leader, designing and delivering award-winning products for consumer and professional markets.

Olympus Imaging America Inc. works collaboratively with its customers and its ultimate parent company, Olympus Corporation, to develop breakthrough technologies with revolutionary product design and functionality that enhance people's lives every day. These include:

• Digital Cameras
• Professional and Interchangeable Lens System Cameras
• Related Underwater Products and Accessories
• Digital and Microcassette Recorders
• Digital Media
• Binoculars

Olympus Imaging America Inc. is responsible for sales in the United States, Canada, Mexico, the Caribbean, and Central and South America. For more information, visit: www.olympusamerica.com.

*Specifications and design are subject to change without any notice or obligation on the part of the manufacturer. All trademarks mentioned herein are the property of their respective holder.
©2012 Olympus Imaging America Inc.

Keith Gordon
Account Supervisor
public relations//social influence
W 212.885.3218 C 917.204.9952
100 West 33rd Street, Floor 7, New York, NY 10001
Ad Age A-List Agency
A Fast Co. Most Innovative Company