Product News: Test & Measuring Instruments
AOI System inspects THT components and solder joints.
Press Release Summary: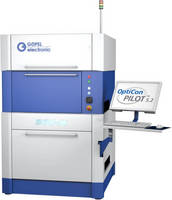 December 7, 2012 - Enabled by integration before wave soldering oven, OptiCon THT-Line enables parallel inspection of mounted components before soldering processes as well as PCB solder joints during return transport in THT production line. Camera system with focal range up to 80 mm inspects PCB component side, enabling detected faults to be rectified before soldering process. For solder joint inspection, scanner system integrated into lower transport area checks PCBs during return transport.
Original Press Release
Parallel Inline AOI for THT Components and THT Solder Joints in One System
Press release date: November 13, 2012
At electronica 2012 GOEPEL electronic presented the world debut for the automatic inspection of THT assemblies: the multi awarded OptiCon THT-Line AOI system now provides a parallel inspection of THT components and THT solder joints. In a typical THT production line, now it is possible to inspect mounted components before the soldering processes as well as PCB solder joints during the return transport.

This gain in effectiveness for users is enabled by the OptiCon THT-Line system's integration opportunity before the wave soldering oven. A camera system with an extremely high focal range (up to 80 mm) inspects the PCB's component side. Hence, detected faults, such as wrong polarity, can be easily rectified before the soldering process.

For solder joint inspection a scanner system is integrated into the AOI system's lower transport area. It checks the PCBs during the return transport. Additional configuration variants for the inspection of the component and solder joint sides are of course possible.

The system software OptiCon PILOT version 5.3 is integral part of the OptiCon THT-Line. It supports the THT assembly inspection by particularly convenient opportunities in generating test programs by means of "easyELKO" and "easyOCR". These functions allow for polarity check of electrolytic capacitors and label reading without prior learning process. With regard to already known opportunities for OCR, this means a revolutionary step in utilizing OCR for quality control of electronic assemblies. In addition, the recently released touchscreen operation with optimized user interface guarantees a convenient and efficient working method with the system.

About GOEPEL electronic:
GOEPEL electronic is a technologically leading vendor of professional Automated Inspection systems (AOI/AXI). A network of branch offices in the UK, France, China or USA, international distributors and service partners ensures the global availability of the products as well as the support to several hundred system installations. Founded 1991 and headquartered in Jena, Germany, GOEPEL electronic has currently in excess of 200 employees and generated revenue of more than 26 million Euro in 2011 (approx. $34 million). GOEPEL electronic has continuously been ISO9001 certified since 1996 and has been honoured with TOP-JOB and TOP-100 awards for being one of the best medium-sized companies in Germany. GOEPEL electronics' award winning products are relied on by the leading companies in telecommunication, automotive, space and avionics, industrial controls, medical technology, and other industries. Further information about the company and its products can be found on the internet at www.goepel.com.

Press Contact:
GOEPEL electronic GmbH  Tel: +49-3641-6896-739
Stefan Meissner    Fax: +49-3641-6896-944
Goeschwitzer Str. 58-60/66  Email: press@goepel.com
D-07745 Jena    URL: www.goepel.com