Product News: Computer Hardware & Peripherals
All-In-One, Widescreen IPC has sunlight-viewable touchscreen LCD.
Press Release Summary: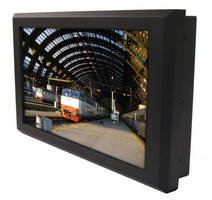 October 11, 2012 - Rated IP65, ToughStation VTPC320VHB fully enclosed, ruggedized, 32 in. computer is powered by 1.6 GHz Intel® Atom™ N270 processor, operates from -30 to +70°C, and integrates widescreen LCD capable of 1,400 nits display brightness. Standard features include 2 GB system memory, Windows® XP OS (Embedded/7 optional) and standard 120 Vac, 50/60 Hz, 5 A supply. I/O includes dual gigabit LAN ports, PS/2 keyboard and mouse support, VGA, RS-232, and USB 2.0.
VarTech Systems, Inc. - Baton Rouge, LA
Original Press Release
VarTech Systems Releases an All-New Large, Widescreen, Sunlight Viewable, LCD, Touch Screen, 32 Inch, All In One Computer
Press release date: October 11, 2012
VarTech Systems Inc. has released their first large screen, fully enclosed, rugged 32" computer. Part of VarTech's ToughStation series line of industrial computers and workstations, the new VTPC320VHB daylight readable, widescreen, LCD, all in one computer is a rugged indoor and outdoor IPC capable of 1400 nits display brightness operating at an impressive operational temperature range of -30 to +70C. The new large screen LCD computer is powered by the latest Intel Atom N270 1.6GHz processor with 2GB of system memory featuring Window's XP operating system (Windows Embedded or Windows 7 optional). Multiple mounting configurations including wall and ceiling mount in either landscape or portrait orientations are available. This system is a NEMA 4 IP65 fully enclosed, black-powder coat finished PC with no external vents offering weather resistant protection against water, dirt, dust, flying debris and humidity.
The LCD display screen of the VTPC320VHB has an optically bonded anti-reflective protective window for added shock and vibration protection and reduced solar reflectivity providing increased outdoor viewing ability. It is integrated with VarTech's proprietary Optical Stack Enhancement (OSE) which is a unique optical design that boosts efficiency of the backlight's light utilization and minimizes the surface reflection of ambient light. Optionally, the VTPC320VHB is available with impact resistant cover glass or vandal resistant, scrape-resistant touch screen technologies. A multitude of inputs can be included on this IPC including dual gigabit LAN ports, PS/2 keyboard & mouse support, vga output, RS-232 and USB 2.0. The VTPC320VHB has a 120 VAC, 50/60 Hz 5A supply voltage with optional 220-240 VAC, 50/60 Hz international supply voltage.
The VTPC320VHB widescreen, LCD, daylight viewable computer can be used in a number of indoor and outdoor environments and workflows. It can serve as interactive computers, information and totem kiosks, multimedia workstations, and training simulation applications. It is also ideal for transportation industry applications such as arrival / departure traveler information systems for scheduling as well as real-time transit vehicle arrivals and departures in areas like railway stations, airport terminals and bus stations. The industrial all in one, LCD computer is also effective as an outdoor digital signage display for exhibiting information in high ambient lighting settings such as way-finding applications in public areas, parks and shopping centers. The VTPC320VHB can also be affective in security solution purposes at plant entrance gates and check points. Mining is also a suitable use for this display such as tunnel boring or other underground mining situations where real-time data or imagery needs to be updated and retrieved by those at ground level.
VarTech Systems Inc. is an ISO 9001 registered company specializing in the manufacturing of military, marine and industrial grade displays and computer workstations. For more information on the VTPC320VHB all-in-one widescreen, sunlight readable computer, please visit
www.vartechsystems.com/products/model/toughstation/VTPC320VHB.asp.