All-In-One Touchscreen HMI Panel PC features IP65 front bezel.
Press Release Summary: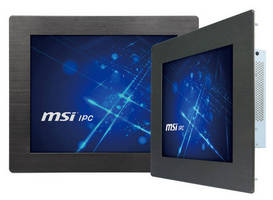 August 15, 2014 - Powered by 1.86 GHz Intel® Dual Core Cedarview CPU, fanless MS-9A61/9A62/9A63 features built-in 15, 17, or 19 in. TFT LCD with 5-wire resistive touch panel. Products are available with choice of <35 W Mini-ITX embedded mainboards, while HDD, SSD, mSATA, and/or SATA DOM options satisfy storage capacity/stability requirements in kiosk, POI, ATM, and digital signage applications. Second display is supported, and other features include lockable power jack and removable front frame design.
Original Press Release
MS-9A61/62/63 15/17/19" HMI Panel PC w/ Touch Panel and IP65 Front Bezel
Press release date: August 12, 2014
The MS-9A61/9A62/9A63 is a powerful all-in-one HMI panel PC with Intel® mainstream Mobile processor. The built-in 15"/17"/19" TFT LCD with 5-wire resistive touch panel make the MS-9A61/9A62/9A63 an optimal HMI platform for automation, kiosk, POI, ATM, digital signage, etc. Designed for diverse HMI applications with high integration flexibility in mind, the MS-9A61/9A62/9A63 allows system integrators to flexibly choose from MSI's Mini-ITX embedded mainboards (under 35W models) according to different application requirements. The rich options of HDD, SSD, mSATA, and/or SATA DOM also satisfy different storage demand of high-capacity or stability. In addition to the built-in display, the 2nd display is also supported for your application demand. Moreover, the IP65 industrial standard front panel and the lockable power jack ensure the reliability of MS-9A61/9A62/9A63's operating in some critical environments.

Designed with high flexibility in mind
This panel PC leads a great concept that allows system integrators to flexibly choose from MSI's Mini-ITX embedded mainboards (under 35W models) according to different application requirements. In order to secure the power connection, the MS-9A61/9A62/9A63 provides a lockable power jack that fastens the power connection. For easy adjustment of the touch screen, the panel PC comes with a removable front frame design. And the friendly mounting design also helps to ease the effort of the engineers' maintenance.

Authentic industrial-grade with fanless design
The MS-9A61/9A62/9A63 offers a powerful computing with Intel® Dual Core Cedarview 1.86GHz CPU, which well-fulfills all the HMI-related applications in different market segments. To allow the users easily see the monitor, the MS-9A61/9A62/9A63 uses an LCD with high contrast ratio and wide viewing angle. The 2 independent displays supported also allow users to connect more monitors to extend the application possibilities. For some specific application environments, the MS-9A61/9A62/9A63's IP65 front panel satisfies some dust- and water-proof requirements.

Key Features
• Intel® Dual Core Cedarview 1.86GHz CPU
• 15"/17"/19" TFT LCD with 5-wire resistive touch panel built-in
• High contrast ratio and wide viewing angle of LCD to allow the display to be easily seen
• Removable front frame to facilitate the adjustment or maintenance
• Flexible storage (HDD/SSD/mSATA /SATA DOM) options
• Support mSATA for solid state disk option
• IP65 front panel
• Lockable power jack to secure the power adaptor connection
• Support DC-in 12V
• Optional stand or open-frame panel PC