AC/DC Full-Brick Power Modules achieve up to 91% efficiency.
Press Release Summary: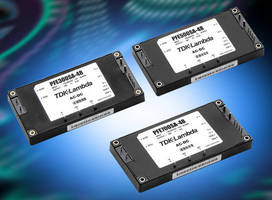 March 17, 2014 - Addressing applications in fanless industrial, COTS, and communications markets, PFE300SA/500SA/700SA are conduction cooled via baseplate and incorporate PFC, regulation, and input-output isolation. All modules can deliver full power over -40 to +100°C range (-40 to +85°C for PFE500SA-12) from 61 x 12.7 x 116.8 mm package. Operating from universal input of 85–265 Vac (47–63 Hz), PFE300SA/500SA are available with nominal outputs of 12, 28, and 48 Vdc (51 Vdc for semi-regulated PFE700SA).
Original Press Release
Higher Efficiency AC-DC Full-Brick Power Modules Have a Five Year Warranty
Press release date: March 1, 2014
TDK Corporation introduces the TDK-Lambda PFE-SA series of AC-DC full brick power modules, representing a significant upgrade to the popular PFE-S series launched five years ago.  These modules are particularly well-suited for outdoor and liquid cooled power systems, addressing the need for fan-less applications in the industrial, COTS and communications markets.
The new series achieves up to a 4% efficiency improvement (up to 91%) and has a five-year warranty. Like the existing models, the innovative PFE300SA, PFE500SA and PFE700SA bricks enable designers to utilize a single device containing power factor correction, regulation and input-output isolation.
Operating from a universal input of 85-265Vac (47-63Hz), the PFE300SA and PFE500SA models are available with nominal outputs of 12, 28 and 48Vdc (51Vdc for the semi-regulated PFE700SA model).  All the power modules can deliver full power with an operating baseplate temperature range of -40 to +100oC (-40 to +85oC for the PFE500SA-12) in a 61 x 12.7 x 116.8mm package.  In addition, over voltage, over current and over temperature protection is included.
The TDK-Lambda PFE-SA series is certified to the safety standards of UL/CSA/EN 60950-1 and is CE marked according to the Low Voltage and RoHS Directives.
More information can be obtained at the following TDK-Lambda Americas website,
www.us.tdk-lambda.com/lp/products/pfea-series.htm,
or by calling 800-LAMBDA-4.  Product availability for the PFE-SA series can be found via the link to TDK-Lambda's distributor network (see "Check Distributor Stock to Buy") at http://www.us.tdk-lambda.com/lp/.
Major applications
• Industrial, COTS (Commercial Off The Shelf), LED signage, test and measurement, broadcast and communications equipment.
Main features and benefits
• Up to 91% efficient
• Baseplate cooled
• Five Year Warranty
• Compatible with existing PFE-S modules (size, pin-out and specifications)
Major specifications
Model
 
PFE300SA
PFE500SA
PFE700SA
Input voltage range
Vac
85 to 265
Nominal output voltages
Vdc
12, 28 & 48
12, 28 & 48
54
Output power
W
300
396 - 504
714
Cooling
-
Conduction cooling via baseplate
Efficiency (200Vac Input)
%
85 - 89
86 – 90
91
Operating baseplate temperature
°C
-40°C to +100°C  (PFE500SA-12: -40°C to +85°C)
Safety
-
UL/CSA/EN 60950-1, CE Mark (LV & RoHS Directives)
Size (W x H x D)
mm
61 x 12.7 x 116.8
Warranty
Years
Five
About TDK Corporation
TDK Corporation is a leading electronics company based in Tokyo, Japan. It was established in 1935 to commercialize ferrite, a key material in electronic and magnetic products. TDK's portfolio includes electronic components, modules and systems* marketed under the product brands TDK and EPCOS, power supplies, magnetic application products as well as energy devices, flash memory application devices, and others. TDK focuses on demanding markets in the areas of information and communication technology and consumer, automotive and industrial electronics. The company has a network of design and manufacturing locations and sales offices in Asia, Europe, and in North and South America. In fiscal 2013, TDK posted total sales of USD 9.1 billion and employed about 80,000 people worldwide.
* The product portfolio includes ceramic, aluminum electrolytic and film capacitors, ferrites, inductors, high-frequency components such as surface acoustic wave (SAW) filter products and modules, piezo and protection components, and sensors.
About TDK-Lambda Corporation
TDK-Lambda Corporation, a group company of TDK Corporation, is a leading global power supply company providing highly reliable power supplies for industrial equipment worldwide. TDK-Lambda Corporation meets the various needs of customers with our entire range of activities, from research and development through to manufacturing, sales, and service with bases in five key areas, covering Japan, Europe, America, China, and Asia.
For more details, please pay a visit to
http://www.tdk-lambda.com/