Product News: Sensors, Monitors & Transducers
AC Current Sensor has dynamic range of 0.10 to 1000+ A.
Press Release Summary: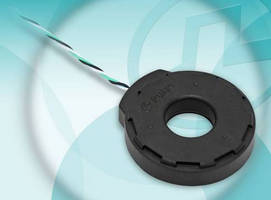 November 20, 2012 - Able to accommodate up to 0.750 in. dia current carrying conductors or 0.750 x 0.093 in. buss bar, Sidewinder® PA3209NL measures AC current at 50 Hz or 60 Hz in smart meters, industrial motor controls, and power line monitoring applications. Unit has coreless design, no saturation limits, and meets ANSI C12.20 accuracy class 0.2 and IEC 62053-22 class 0.2. Also, sensor meets Class 1 requirement for immunity to external AC magnetic fields and is immune to external DC magnetic fields.
Pulse Electronics Corp. - Military/Aerospace - Bristol, PA
Original Press Release
Pulse Electronics' New Sidewinder AC Current Sensor has a Dynamic Range of 0.10-1000+ Amps
Press release date: November 6, 2012
San Diego, Calif. – Pulse Electronics Corporation (NYSE: PULS), a provider of electronic components, announces the latest addition to the Sidewinder® product line-up, the PA3209NL.  Responding to customer requests to extend this sensor technology to a wider range of their applications, Pulse has created this larger inner diameter product to accommodate current carrying conductors up to 0.750 inches (19.05mm) in diameter, or the industry standard 0.750 in. x 0.093 in. (19.05mm x 2.36mm) buss bar. With a dynamic range of 0.10 to more than 1000 Amps, this sensor provides extremely accurate measurement of AC current at 50 Hz or 60 Hz in smart meters, industrial motor controls, and power line monitoring applications. Pulse's Sidewinder sensor handles the full current measurement capabilities of the traditional current transformer, at a lower price point and no saturation limits.

"The Sidewinder is a breakthrough in power sensing technology," said Glenn Roemer, field application engineer, Pulse Electronics. "It differs from traditional current sense transformers because of its coreless design. This makes it lighter, easier to assemble, and less expensive. By adding a larger inner diameter to the Sidewinder family, a larger buss bar can pass through the sensor, enabling it to measure 1000 Amps and higher."

The Sidewinder PA3209NL current sensor meets ANSI C12.20 accuracy class 0.2 and IEC 62053-22 class 0.2 as well as the Class 1 requirement for immunity to external AC magnetic fields. It is completely immune to external DC magnetic fields. The PA3209NL takes its place among an existing line-up of Sidewinder products capable of sensing up to 40 Amps (PA3206NL), 120 Amps (PA3208NL), and 200 Amps (PA3202NL). The sensors are packaged in trays with a price of approximately $2.45 each in quantities of ten thousand. Lead time is 8-10 weeks. The product is available immediately.

More information can be found on the datasheet located at http://productfinder.pulseeng.com/product/PA3209NL and on the Pulse Electronics website at www.pulseelectronics.com/sidewinder-p2.

About Pulse Electronics:

Pulse Electronics is the electronic components partner that helps customers build the next great product by providing the needed technical solutions. Pulse Electronics has a long operating history of innovation in magnetics, antennas, and connectors, as well as the ability to ramp quickly into high-quality, high-volume production. The Company serves the wireless and wireline communications, power management, military/aerospace and automotive industries. Pulse Electronics is a participating member of the IEEE, SFF, OIF, HDBaseT Alliance, CommNexus, and MoCA. Visit the Pulse Electronics website at www.pulseelectronics.com.

Copyright ©2012 Pulse Electronics Corporation.  All rights reserved.  All brand names and trademarks are properties of their respective holders.

Pulse Electronics
Glenn Roemer
Field Application Engineer
Phone: +1 858-674-8203
Email: groemer@pulseelectronics.com

A R Marketing Inc. (agency)
Andrea Roberts
+1 858-451-8666
Email: andrea@armarketinginc.com