Product News: Test & Measuring Instruments
Test System measures oxygen permeability of contact lenses.
Press Release Summary: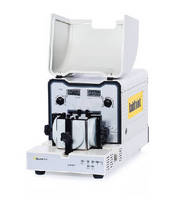 July 15, 2014 - Based on equal pressure/coulometric method, i-OXTRA 7700 measures oxygen transmission rate of various films, sheeting, and finished packages. System offers test range of 0.01~6500 cm³/m²-d with resolution of 0.001 cm³/m²-d. Capable of testing 3 distinct or identical specimens with individual test results, i-OXTRA 7700 can be connected with maximum of 9 satellite bases to perform up to 30 tests simultaneously. Analyzer is equipped with 4 USB ports and dual Internet ports for data transmission.
Original Press Release
Labthink i-OXTRA 7700 Measures Oxygen Permeability of Contact Lenses
Press release date: July 14, 2014
Oxygen transmission performance of contact lenses would directly influence feelings and experiences of consumers, and, correspondingly, the sales volume of contact lenses would be affected. The test for oxygen permeation performance of contact lens has become a main concern of the manufacturers.

Related two Standards
ISO 9913-1, Optics and optical instruments—Contact lenses—Part 1: Determination of oxygen permeability and transmissibility with the FATT method; and ISO 9913-2, Optics and optical instruments—Contact lenses—Part 2: Determination of oxygen permeability and transmissibility by the coulometric method.

Based on these two standards, i-OXTRA 7700 Oxygen Transmission Rate Testing System (http://www.labthinkinternational.com/product/i-oxtra-7700-oxygen-transmission-rate-testing-system.html), designed by Labthink international Inc, launched for this oxygen transmission rate of contact lenses.  Flowing nitrogen and Oxygen gas between the two sides of contact lenses. oxygen would, with the help of concentration difference, permeate through the sample and into the carrier gas side. Then, oxygen would be taken to the coulometric sensor. The sensor would precisely measure the oxygen quantity in the carrier gas flow (that is, nitrogen gas flow), and calculate the oxygen transmission rate (OTR).

Before testing, instruments should be calibrated with reference films, so as to confirm the correction factors. Those factors would be used in formal tests. It's stated clearly in ISO 9913-2 that the sample for calibration is SRM 1470, which coincides with the reference film stipulated in ASTM D 3985, a standard for film testing.

More information, come to Labthink International, Inc.
200 River's Edge Drive
Medford, Massachusetts, 02155, U.S.A.
Phone: +1-617-830-2190
FAX: +1-781-219-3638
Email: info@labthinkinternational.com
Website: http://www.labthinkinternational.com