Product News: Test & Measuring Instruments
Test System indicates water vapor transmission rate.
Press Release Summary: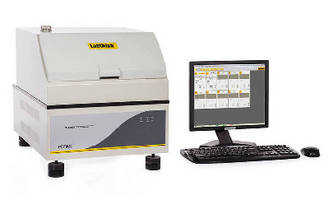 March 18, 2014 - Using gravimetric method, i-Hydro 7320 automatically tests water vapor permeability of packaging materials. System features gas-cylinder lifting device that holds test dishes, automatic data reset function prior to weighing, wide range of temperature and humidity controls, and purge speed adjusting system. Equipped with round tray designed to accommodate 6 test dishes, instrument can test 6 same or different specimens, with no interference among dishes, and display test data independently.
Original Press Release
Labthink Inspires: Detailed Appreciation to i-Hydro 7320 Water Vapor Transmission Rate Testing System
Press release date: March 17, 2014
Water vapor permeability of packaging materials, referred to the transmission of water vapour through the barrier materials like films and composite films, performs as important guidance to packages producing and valuable reference to products shelf life. Labthink, with decade of relentless dedication to R&D of lab and on-site test instruments, launches i-Hydro 7320 water vapor transmission rate test system, the most outstanding model in the series. Every detail of i-Hydro 7320 , from automatic control function and sophisticated mechanical design to high test efficiency, reflects intelligent inspiration and innovation of Labthink.

Gravimetric method, an independent test method for water vapor transmission rate, because of its excellent test data reproducibility and test error, has been regarded as reference standard in the field. Considering its authority and traceability, Labthink accordingly develops i-Hydro 7320 water vapor transmission rate test system that for the first time realizes the automatic test under gravimetric method.

As the reference standard for WVTR test, the accuracy of test data under gravimetric method is vitally important. Facilitated by gas-cylinder lifting device that holds the test dishes and automatic data reset function prior to weighing, i-Hydro 7320 water vapor transmission rate test system realizes precise intermittent test during weighing process. Automatic and wide range of temperature and humidity control as well as sophisticated purging speed adjusting system lead far ahead the international test standards and as well offer accessibility to non-standard test. Both calibration weights and reference films are supported in the system for fast calibration that fundamentally assures the accuracy and consistency of test data.

i-Hydro 7320 water vapor transmission rate test system, sophisticated round tray designed with a capacity of 6 test dishes, each instrument can realize single test for 6 specimens, either the same or the different, with no interferences among dishes and test data independently displayed.

The test software Labthink developed and specialized for i-Hydro 7320 water vapor transmission rate test system is designed with a user-friendly interface, intuitive real-time test data display and graphing function, as well as multiple test data storage formats including Excel and database. Besides, it is able to control multi-user test records that up to 9 satellites and mainframe can be simultaneously operated and monitored.

For more information, please visit http://www.labthinkinternational.com/product/i-hydro-7320-water-vapor-transmission-rate-testing-system.html