Product News: Test & Measuring Instruments
Rotary Axis Calibrator measures angular position to ±1 arc sec.
Press Release Summary: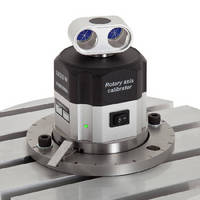 March 18, 2013 - Operating with XL-80 or ML10 laser interferometers, Model XR20-W wirelessly measures angular position of rotary axes for testing accuracy of lathes, multi-axis machine tools, trunnion tables, and spindles. Off-axis rotary software allows XR20-W to be used even when it cannot be positioned directly on rotary axis under test. Software calculates true position and records axis performance and errors when compared to intended target. Test results are sent to PC via Bluetooth® connection.
Original Press Release
New Wireless Rotary Axis Calibrator Measures Angular Position to ±1 Arc Second with Traceable Accuracy
Press release date: March 14, 2013
Renishaw's wireless XR20-W and new off-axis rotary software work with laser interferometers to test accuracy of rotary tables, lathes, spindles, 4- and 5-axis machine tools

The new Renishaw XR20-W calibration system measures the angular position of rotary axes to within ±1 arc second, wirelessly, for testing the accuracy of lathes, multi-axis machine tools, mill-turn machines, trunnion tables and spindles. The XR20-W works in conjunction with XL-80 or ML10 laser interferometers, as the system combines the readings of the rotary calibrator and laser to determine positioning errors in axes under test.

The rotary axis calibrator is generating positive feedback from the field with its advanced, compact design allowing easier set-up and use. Application flexibility is extended by the addition of new off-axis rotary software that allows the XR20-W to be used even when it cannot be positioned directly on the rotary axis under test. The software calculates true position and records axis performance and errors when compared to the intended target. The test takes about ten minutes and results are sent to a PC via Bluetooth® connection. Users say they can now test more and different machine tools than previously possible, giving a better return on investment and offering a more attractive service to their customers.

"The new Renishaw XR20-W rotary axis calibrator has transformed the way we calibrate rotary axes on machine tools," said Tony Morley, president Morley Machine Tool Alignment – a service and maintenance provider in Milton, WA. "Before XR20-W, our technicians relied on the old Renishaw RX10 and our in-house designed "Morleyometer" for applications where the calibrator could not be mounted on the center of rotation. While these devices got the job done, they were heavy, cumbersome and slow. Set-up could be challenging, and the associated cables and fixturing meant that great care had to be taken to ensure the test proceeded smoothly. Set-up is now quick and easy and the new RotaryXL software is a pleasure to use.

"The XR20-W can even be used in 'off center' applications such as trunnions and head type 5-axis machines," added Morley. "The new methodology allows mechanical set-ups to be done quickly with just a simple generic mounting fixture, allowing a fully automatic test routine to proceed without delay. This tool has enabled us to offer our customers (typically high end aerospace component manufacturers) an exceptionally high standard of service and helped our company grow from just four employees a few years ago to the 20 strong team we have today."

The XR20-W's lightweight – just over two pounds – and wireless operation allow fast setup and eliminate safety hazards created by cables. It attaches to a rotary axis via a flexible mounting ring assembly, and is centered within ±1 mm (0.04") using a visual aid. Flexible mounting options include an adapter plate for rotary tables with unsuitable center recesses and a chuck adapter for lathes. The various mounting options ensure faster set-up and minimize alignment errors that can lead to measurement errors.

"We have reduced our test setup time by 40% and test run time by 20%," said Luke Wang, assistant general manager of Quality Control Department for Hurco, Taiwan. "And, the Bluetooth® wireless technology allows safer testing, making supervision a non issue. As a result we do not disrupt shop floor activity, a great boost to our operations and quality procedures."

For more information on the XR20-W system, contact Clive Warren, business manager, calibration systems, Renishaw, Inc. Email: clive.warren@renishaw.com. For a detailed look at other productivity enhancements for metrology, linear and rotary position feedback, and machine tool calibration, visit Renishaw's web site at: www.renishaw.com.

The Bluetooth word mark and logos are owned by Bluetooth SIG, Inc. and any use of such marks by Renishaw plc is under license. Other trademarks and trade names are those of their respective owners.

Contact
Jeffrey Seliga
Renishaw, Inc.
5277 Trillium Blvd.
Hoffman Estates, IL 60192
Tel: 847.286.9953
Fax: 847.286.9974 
Jeffrey.seliga@renishaw.com

Inquiries should be directed to:
In USA: Susan Wilm, Marketing Assistant, Renishaw Inc., 5277 Trillium Blvd., Hoffman Estates, IL 60192. susan.wilm@renishaw.com  Tel: 847.286.9953

In Canada: Dafydd Williams, General Manager, Renishaw (Canada) Limited, 2180 Dunwin Drive, Unit #1, Mississauga ONT L5L 5M8. dafydd.williams@renishaw.com  Tel: 905.828.0104