Product News: Electronic Components & Devices
Quad 2525 Case Size SMD MLCC suits high-frequency RF applications.
Press Release Summary: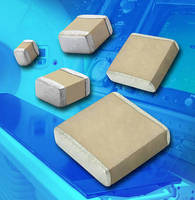 June 3, 2014 - Manufactured in noble metal electrode (NME) technology with wet build process, the QUAD HIFREQ 2525 is based on stable ceramic dielectric and  features Q of >4,000 at 10 MHz, 1 pF; ESR down to 0.018 Ω; and DC voltage ratings up to 3,600 V. Other characteristics include 1.0–2,700 pF capacitance range, tight tolerances to ±0.1 pF, aging rate of 0% per decade, and 55 to 125°C operating range. Supporting working voltages from 300–3,600 V, halogen-free MLCC is available with choice of terminations.
Original Press Release
Vishay Intertechnology Launches New SMD MLCC in Quad 2525 Case Size for High-Frequency RF Applications
Press release date: May 30, 2014
Device Offers Ultra-High Q and Ultra-Low ESR for Telecom, Medical, Military, and Industrial Equipment

MALVERN, Pa. – Vishay Intertechnology, Inc. (NYSE: VSH) is adding to its QUAD HIFREQ series of high-power surface-mount multilayer ceramic chip capacitors (MLCCs) with a new device in the quad 2525 case size. Designed for high-frequency RF applications in magnetic resonance imaging (MRI) coils and generators, RF instrumentation, telecom base stations, lasers, and military communications systems, the QUAD HIFREQ 2525 case device features an ultra-high Q (> 4000 at 10 MHz, 1pF), ultra-low ESR down to 0.018 Ω, and DC voltage ratings up to 3600 V.

Based on an extremely stable ceramic dielectric and offering high serial resonant frequency (SRF) and parallel resonant frequency (PRF), the Vishay Vitramon device released today is designed to provide reliable performance in critical applications such as UHF and microwave RF power amplifiers, filter and impedance matching networks, timing circuits, mixers, and oscillators.

The QUAD HIFREQ 2525 device offers a broad working voltage from 300 V to 3600 V and a wide capacitance range from 1.0 pF to 2700 pF. The device offers tight tolerances to ± 0.1 pF, an excellent aging rate of 0 % per decade, and an operating temperature range of 55 °C to +125 °C.

Manufactured in noble metal electrode (NME) technology with a wet build process, the QUAD HIFREQ 2525 capacitor is available with RoHS-compliant nickel barrier terminations with 100 % matte tin plate for reflow assembly (code "X"), and with a lead-bearing (minimum 4 %) termination finish (code "L"). The device is halogen-free and conforms to Vishay Green standards.

Samples and production quantities of the QUAD HIFREQ 2525 MLCC are available now, with a lead time of nine weeks for larger orders. Pricing for U.S. delivery only starts at $1.00 per piece.

Vishay Intertechnology, Inc., a Fortune 1000 Company listed on the NYSE (VSH), is one of the world's largest manufacturers of discrete semiconductors (diodes, MOSFETs, and infrared optoelectronics) and passive electronic components (resistors, inductors, and capacitors). These components are used in virtually all types of electronic devices and equipment, in the industrial, computing, automotive, consumer, telecommunications, military, aerospace, power supplies, and medical markets. Vishay's product innovations, successful acquisition strategy, and "one-stop shop" service have made it a global industry leader. Vishay can be found on the Internet at www.vishay.com.

http://twitter.com/vishayindust
http://www.facebook.com/VishayIntertechnology

Vishay Contact:
Andrew Post
Senior Manager
Global Communications
Vishay Intertechnology, Inc.
Telephone: 1 610 251-5287
Fax: 1 610 889-9429
Email: andrew.post@vishay.com