Product News: Machinery & Machining Tools
Precision Hydraulic Chuck serves milling, drilling operations.
Press Release Summary: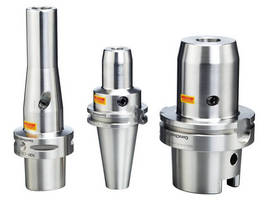 February 27, 2013 - Available in pencil, slender, or heavy-duty design, CoroChuck™ 930 is balanced according to DIN 69888. Brazed membrane, maximizing secure clamping with 2 supports on each side, promotes precision as well as pull-out security, while design ensures optimal torque transmission. Based on hydraulic tool clamping system, chuck can be tightened or released with dedicated torque wrench and holds tolerances within microns. Precision run-out can be measured at less than 157 µin. at 2.5 x DC.
Original Press Release
Sandvik Coromant Introduces the High Precision Hydraulic Chuck, CoroChuck(TM) 930
Press release date: February 18, 2013
Fair Lawn, N.J. – March 1, 2013 sees the launch of CoroChuck 930. This high precision hydraulic chuck from Sandvik Coromant brings secure tooling performance to milling and drilling operations. CoroChuck 930 is perfect for meeting the demands of high run out precision, and extensive tests have shown it to provide the best pull-out security available.

Fulcrum technology
The secret behind the high precision and pull-out security is in the optimized design of the brazed membrane, which allows for maximum secure clamping with two supports on each side (fulcrums).

This design ensures excellent torque transmission to improve the performance of solid carbide end mills, drills and reaming tools. This performance is repeated over multiple clamping cycles to retain high quality component surfaces and extend tool life. Additionally, the CoroChuck 930 is designed with dampening features that minimize vibrations during the machining process.

Based on a hydraulic tool clamping system, the CoroChuck 930 can be quickly tightened or released with a dedicated torque wrench, improving efficiency through quick and easy set-ups and changes. No external equipment is required to clamp or unclamp the system.

The chuck holds tolerances within microns to improve tool precision, surface finish and productivity. The precision run-out can be measured at <4 µm="" (157="" µinch)="" at="" 2.5="" ×="">4>

CoroChuck 930 is suitable for all types of machine tools that either have a rotating spindle or workpiece; Lathes, Multi-Task machines, Machining Centers and driven tools in Turning Centers, and Vertical Turning Lathes.

Available in pencil, slender and heavy duty design, CoroChuck 930 is balanced according to DIN 69888.

For more information and a closer look at the new CoroChuck 930, visit http://www.sandvik.coromant.com/productnews.

About Sandvik Coromant
Sandvik Coromant is a global leading supplier of cutting tools, tooling solutions and know-how to the metalworking industry. With extensive investments in research and development we create unique innovations and set new productivity standards together with our customers. These include the world's major automotive, aerospace and energy industries. Sandvik Coromant has 8,000 employees and is represented in 130 countries. We are part of the business area Sandvik Machining Solutions within the global industrial group Sandvik.

www.sandvik.coromant.com/us