Product News: Machinery & Machining Tools
Photoresist Processing System provides conformal coating.
Press Release Summary: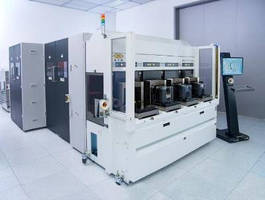 March 20, 2014 - Available on EVG150XT Resist Coating System for high-volume manufacturing semiconductor applications, NanoSpray provides conformal coating of structures that have vertical sidewall angles, such as through-silicon vias, through-glass vias, and through-substrate vias used for 2.5D interposers and 3D-ICs. NanoSpray can deposit polymer liners ranging from 1–20 microns thick, minimizing mechanical stress and optimizing electrical performance of advanced-packaging interconnect structures.
Original Press Release
EV Group Boosts 2.5D And 3D-IC/TSV Performance with New NanoSpray Application on EVG150XT High-Volume-Manufacturing Photoresist Processing System
Press release date: March 12, 2014
ST. FLORIAN, Austria,  -- EV Group (EVG), a leading supplier of wafer bonding and lithography equipment for the MEMS, nanotechnology and semiconductor markets, today announced that its patented NanoSpray conformal coating technology is now available on its newly introduced EVG150XT resist coating and developing system for high-volume manufacturing (HVM) semiconductor applications.  NanoSpray provides conformal coating of structures that have vertical sidewall angles--such as through-silicon vias (TSVs), through-glass vias and through-substrate vias used for 2.5D interposers and 3D-ICs--with thick polymer liners and photoresists.  This unique capability, which is already available on previous-generation EVG resist processing platforms, has been used in production to reduce mechanical stress and improve electrical performance of these advanced-packaging interconnect structures.

TSV interconnects are critical to the development of 2.5D/3D-ICs since they enable through-chip communication between the vertically stacked device layers.  Resist coating layers are needed around the sidewalls of these structures--for passivation to protect against corrosion, isolation to reduce electrical noise, as a compliant layer to mitigate thermal stress or as a photoresist mask for in-via photolithography prior to etching. 

"NanoSpray technology from EVG to deposit uniform polymer liners in high aspect ratio through vias in glass is an important technology that we are using in our glass industry program that enabled us to lower stress and improve reliability of glass through package vias (TPVs)," stated Dr. Rao R. Tummala, professor and director of the Georgia Institute of Technology 3D Systems Packaging Research Center (GT PRC). 

EVG's NanoSpray technology is unique in its ability to deposit thick polymer liners (from 1-20 microns thick) cost-effectively.  NanoSpray has already been adopted by multiple customers due to its ability to improve electrical performance characteristics, such as reducing insertion loss, crosstalk and leakage current, as well as reducing mechanical stress in TSVs.  NanoSpray is available on EVG's 200-mm resist processing platforms as well as its latest-generation 300-mm resist processing systems, such as the EVG150XT, which provides up to a three-fold increase in throughput over prior-generation platforms.

According to DI Franz Schrank, MAS, project manager for 3D integration at ams AG, a leading developer and manufacturer of high-performance analog IC and sensor solutions, "The products we deliver to our customers need both exceptional performance, small footprint and low system cost, which is enabled by integration of multiple functions.  We have worked closely with EV Group for several years in our advanced manufacturing applications such as 3D integrated sensors, where EVG's NanoSpray solution has delivered the conformal resist coating performance we've needed for our 3D/TSV volume production."

"Our NanoSpray technology tackles several critical reliability and thermal issues associated with 3D-IC integration," stated Markus Wimplinger, corporate technology development and IP director at EV Group.  "By combining this unique capability on our most advanced resist processing platform for volume production applications, we are one step closer to offering a complete 2.5D/3D-integration solution for our customers.  This is a clear example of taking our 'Triple-i' strategy of invent, innovate and implement to its natural conclusion."

Media and analysts interested in learning more about EVG's latest developments in photoresist and lithography processing, as well as other high-volume manufacturing solutions, are invited to attend the company's presentation during the iMAPS 10(th) International Conference and Exhibition on Device Packaging in Scottsdale, Ariz., March 11-13.  EVG spokespeople will present "Temporary Bonding Cost Of Ownership: The Link Between Low Total Thickness Variation and Chip Yield," co-authored with Dow Corning, on Thursday, March 13 at 9:45 a.m. in the Advanced 3D Packaging 1 session. 

About EV Group (EVG)
EV Group (EVG) is a leading supplier of equipment and process solutions for the manufacture of semiconductors, microelectromechanical systems (MEMS), compound semiconductors, power devices and nanotechnology devices.  Key products include wafer bonding, thin-wafer processing, lithography/nanoimprint lithography (NIL) and metrology equipment, as well as photoresist coaters, cleaners and inspection systems.  Founded in 1980, EV Group services and supports an elaborate network of global customers and partners all over the world.  More information about EVG is available at www.EVGroup.com.

CONTACT: Clemens Schütte, Director, Marketing and Communications, EV Group, Tel: +43 7712 5311 0, E-mail: Marketing@EVGroup.com

Web Site: http://www.evgroup.com