PCB Guide Rails facilitate depaneling process.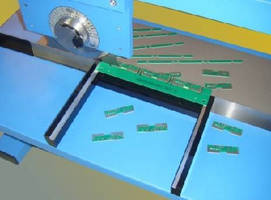 PCB Guide Rails facilitate depaneling process.
September 7, 2011 - Suitable for thin pre-scored printed circuit cards measuring .060 in. thick or less, K3000 Linear Blade PCB Singulators assure score-line of PCB matches up with linear blade of K3000 depanelizer, preventing blade run out. USA-made depanelizers come in 18 and 24 in. blade versions with adjustable front and back table that can be tilted, allowing separated panels to slide onto conveyor line. Adjustable blade guards on each side of circular blade protect operator.

(Archive News Story - Products mentioned in this Archive News Story may or may not be available from the manufacturer.)

Additional information provided by manufacturer
Original Press release

FKN Systek, Inc.
86 Kendall Ave.
Framingham, MA, 01702
USA



Securely Singulating Thin Flexible Pre-scored PCBs


Tooling rails help guide and fix thin PCBs for a safer depaneling experience .

Thin pre-scored printed circuit cards (.060" or less) can be difficult to align during the singulation process. FKN Systek provides a PCB guide rail set which assures that the score-line of the PCB matches up perfectly with the linear blade of the K3000 depanelizer. This helps prevent the problem of blade run out, which occurs when the thin board is not held perfectly level during the process.

Depanelizing 18" and up to 24" skip scored PCBs is made easy and convenient with the K3000 Linear blade PCB singulators. These "Made in the USA" manual PCB depanelizers are available in standard 18" and long 24" blade versions. To cleanly separate the pre-scored boards, just place the bottom score-line of the PCB onto the linear blade and pull the circular blade across the top scorel-ine. This separates the panels without dust or scrap. An adjustable front and back table can be tilted so that separated panels can slide onto a conveyor line. Standard FR4 PCBs as well as Aluminium or Copper pre-scored panels can be separated using this equipment. Go to FKNSystek.com for information and videos about the process.

Adjustable blade guards on each side of the circular blade provide operator protection from the working area. These can be moved up and down in order to provide a gating gap so only the score-line of the PCB can pass between the guard and the linear blade. Blades are made of long lasting tool steel.

Also available from FKN Systek is a motorized linear blade PCB depanelizer which separates the panels when the operator steps on a foot switch.

For more information see our home page, call or E Mail FKN Systek:

FKN Systek

508 935 2282

E Mail: FKN@FKNSYSTEK.com


---


Start Your

Free


Subscription to


Industry Market Trends

.