Product News: Electronic Components & Devices
N-Channel Power MOSFETs minimize losses.
Press Release Summary: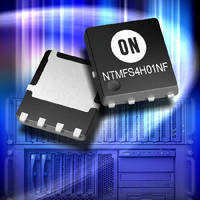 May 30, 2014 - Rated at 25 V and available with or without integrated Schottky diode, Series NTMFS4Hxxx and NTTFS4Hxxx MOSFETs are suited for server and telecom switching applications, high power density DC-DC converters, and to support synchronous rectification in point-of-load modules. RDSon performance of 0.7 mΩ and low input capacitance of 3780 pF ensure conduction, switching, and driver losses are minimized.
Original Press Release
ON Semiconductor Introduces New Family of Low Voltage Power MOSFETs that Reduce Losses to Meet Industry Demand for Greater Efficiency
Press release date: May 20, 2014
25 volt devices utilize design, package and materials technology to deliver benchmark MOSFET power efficiency for server and telecom switching applications
Power Conversion Intelligent Motion (PCIM)

NUREMBERG, Germany -- ON Semiconductor (Nasdaq: ONNN), driving energy efficient innovations, has introduced a new family of six N-channel Metal Oxide Semiconductor Field Effect Transistors (MOSFETs) that have been designed and optimized to deliver industry leading efficiency compared to existing devices on the market.

The new NTMFS4Hxxx and NTTFS4Hxxx series of MOSFETs  are ideally suited as switching devices for a wide range of applications including server and networking equipment and high power density DC-DC converters, or to support synchronous rectification in point-of-load (PoL) modules. Versions of these MOSFETS are available with or without an integrated Schottky diode that can help engineers achieve even greater efficiency.

ON Semiconductor recognizes the ever-increasing focus on the energy efficiency of end product performance, and has optimized the design, materials and packaging of the new power MOSFETs to reduce losses. Best-in-class RDSon performance of 0.7 milliohms (mΩ) and low input capacitance of 3780 picofarads (pF) ensure conduction, switching and driver losses are minimized. Careful consideration has also been given to ensure that the MOSFETs offer improved thermal performance and low package resistance and inductance compared to existing devices.

"Optimal overall efficiency derived from minimizing losses incurred through conduction and switching is very high on the wish list for designers across an increasing number of end markets," said Paul Leonard, vice president and general manager for ON Semiconductor's Power Discrete products. "By utilizing our process, materials and packaging expertise we have been able to advance the performance of power MOSFETs to a new level that will help our customers achieve their stringent design performance objectives."

Packaging and Pricing
The NTMFS4H01N, NTMFS4H01NF, NTMFS4H02N and NTMFS4H02NF are offered in Pb-free S08-FL packages and priced at $2.99, $3.06, $1.86 and $1.93 per unit respectively in 1,500 unit quantities while the NTTFS4H05N and NTTFS4H07N are offered in Pb-free µ8-FL packages and priced at $0.86 and $0.67 per unit in 1,500 unit quantities.

Follow @onsemi on Twitter: www.twitter.com/onsemi

About ON Semiconductor
ON Semiconductor (Nasdaq: ONNN) is driving innovation in energy efficient electronics, empowering customers to reduce global energy use. The company offers a comprehensive portfolio of energy efficient power and signal management, logic, discrete and custom solutions to help design engineers solve their unique design challenges in automotive, communications, computing, consumer, industrial, LED lighting, medical, military/aerospace and power supply applications. ON Semiconductor operates a responsive, reliable, world-class supply chain and quality program, and a network of manufacturing facilities, sales offices and design centres in key markets throughout North America, Europe, and the Asia Pacific regions. For more information, visit http://www.onsemi.com.

ON Semiconductor and the ON Semiconductor logo are registered trademarks of Semiconductor Components Industries, LLC. All other brand and product names appearing in this document are registered trademarks or trademarks of their respective holders. Although the company references its Web site in this news release, such information on the Web site is not to be incorporated herein.

Contacts
Beth Johnston
Media Relations
ON Semiconductor
(208) 234-6738
Beth.Johnston@onsemi.com