Product News: Electrical Equipment & Systems, Electronic Components & Devices, Green & Clean
Multi-Standard Wireless Charging SoC enhances smartphone design.
Press Release Summary: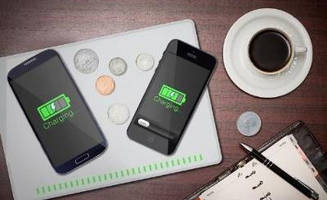 June 5, 2014 - Affording OEM flexibility by enabling automatic selection between specifications from A4WP, PMA, and WPC, BCM59350 lets mobile device manufacturers add multi-standard wireless charging. This wireless charging PMU (power management unit) delivers up to 88% AC to DC efficiency and supports up to 7.5 W for accelerated charging. Boost mode enables charging with 50% less voltage, and product can be designed in smartphone motherboard or battery cover.
Original Press Release
Broadcom Introduces Multi-Standard Wireless Charging SoC for Smartphones
Press release date: May 28, 2014
Only Company to Offer Complete Wireless Charging Package

IRVINE, Calif. –

News Highlights:

--  Compatible with all existing wireless charging standards (A4WP, PMA and WPC) for consumer ease-of-use
--  Delivers end-to-end system with Broadcom's Bluetooth® WICED™ Smart family for wireless charging pads
--  Leverages Broadcom® Wi-Fi and Bluetooth combo connectivity leadership for mobile platforms

Broadcom Corporation (NASDAQ: BRCM), a global innovation leader in semiconductor solutions for wired and wireless communications, today introduced a new multi-standard smartphone power management unit (PMU)  that drives Rezence™ technology into the mainstream while providing compatibility with existing deployed standards.  When combined with Broadcom's WICED™ (Wireless Internet Connectivity for Embedded Devices) Smart family of SoCs and software for the charging pad, manufacturers can now build complete and broadly compatible end-to-end wireless charging solutions.  For more news, visit Broadcom's Newsroom.

Broadcom's high performance BCM59350 wireless charging PMU enables automatic selection between specifications from all three leading standards organizations including the Alliance for Wireless Power (A4WP), Power Matters Alliance (PMA) and Wireless Power Consortium (WPC) for OEM flexibility.  A4WP uses resonant technology, called Rezence, that allows consumers to "drop and go," placing multiple devices on a single charging surface without the trouble of accurate positioning or alignment.

"Available today, Broadcom's new wireless charging technology enables device manufacturers to build multi-standard wireless power receivers, alleviating consumer confusion and driving the benefits of Rezence technology into the mainstream," said Reinier van der Lee, Broadcom Product Director, Mobile Platforms.  "Broadcom delivers the complete package -- interoperable wireless charging, leading mobile connectivity and WICED™ Smart technology for charging pads, simplifying the development process and enabling a fully interoperable ecosystem to our customers."

Rezence uses Bluetooth Smart technology as a reliable communication channel between the smartphone and charging surface, taking advantage of the wide deployment of Bluetooth in mobile devices and wearables.  Leveraging Broadcom's combo connectivity leadership, mobile device manufacturers can easily add multi-standard wireless charging, simplifying development and accelerating time to market for a best-in-class smartphone platform design.

"Demand for wireless charging is set to explode over the next five years," said Ryan Sanderson, IHS Technology Associate Director, Power Supply & Storage Components.  "IHS forecasts the number of devices shipped annually that are enabled to charge wirelessly to increase to over $50 million in 2014 and accelerate to $900 million in 2018.  This is projected to drive a combined market for wireless power receivers and transmitters worth $8.5 billion in 2018."

Key Features: 

--  Efficient - up to 88 percent AC to DC efficiency
--  High performance - supports up to 7.5W for faster charge time than standard USB and wall charger
--  Boost mode - Broadcom enables charging performance with 50 percent less voltage
--  Support for automatic selection between standards and single mode operation
--  NFC coexistence - Broadcom's wireless charging design ensures high-quality NFC performance
--  Implementation flexibility - can be designed in a smartphone motherboard or battery cover
--  Small PCB footprint - Broadcom's design supports multiple standards in the same size as a single standard solution
--  Low cost - Broadcom's solution has a cost-effective bill of materials with no external active components, excluding WICED™ Smart

Availability:
The Broadcom BCM59350 wireless charging smartphone PMU is now sampling with select customers.

For ongoing news, visit Broadcom's Newsroom, read the B-Connected Blog, or visit Facebook or Twitter. And to stay connected, subscribe to Broadcom's RSS Feed.

About Broadcom
Broadcom Corporation (NASDAQ: BRCM), a FORTUNE 500® company, is a global leader and innovator in semiconductor solutions for wired and wireless communications. Broadcom® products seamlessly deliver voice, video, data and multimedia connectivity in the home, office and mobile environments.  With the industry's broadest portfolio of state-of-the-art system-on-a-chip solutions, Broadcom is changing the world by connecting everything®.  For more information, go to www.broadcom.com.

Broadcom®, the pulse logo, Connecting everything®, the Connecting everything logo and WICED™ are among the trademarks of Broadcom Corporation and/or its affiliates in the United States, certain other countries and/or the EU.  Any other trademarks or trade names mentioned are the property of their respective owners.

Contacts:
Media
Dana Orsini
Manager, Public Relations
949-202-7505
danabrz@broadcom.com

Investors
Chris Zegarelli
Sr. Director, Investor Relations
949-926-7567
czegarel@broadcom.com