Milling Toolholder features maintenance-free design.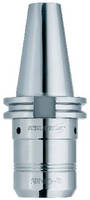 Milling Toolholder features maintenance-free design.
June 29, 2012 - Well suited for rough milling, SINO-R Universal Toolholder is based on expansion technology system with solid body and pressure medium, clamping cutting tool using actuation wrench. Combination of radial rigidity and dampening characteristics ensure smooth running of tool. SINO-R holds tool securely, with max torque transmission of 627 lb-ft and clamping diameter of 1.25 in.

Original Press release

Schunk
211 Kitty Hawk Dr.
Morrisville, NC, 27560
USA



New Milling Toolholder for Heavy-Duty Cutting


The new SINO-R from SCHUNK is a maintenance free toolholder especially well suited for rough milling.

The universal toolholder is based on an expansion technology system with a solid body and a pressure medium, quickly clamping the cutting tool by using a simple actuation wrench. This simple operation saves unproductive machine down-time.

The excellent interaction of high radial rigidity and excellent dampening characteristics are special features that increase the smooth running of the tool. The result is a high tool life and increased material removal rates.

An additional plus for the user: the toolholder is flexible thanks to the use of intermediate sleeves. Nearly all common tool shank diameters can be clamped.
SINO-R holds your tool securely, with a maximum torque transmission (850 Nm (627 Ft-lb)), at a clamping diameter of 32 mm (1.25"). It is precision-balanced standard to G 6.3 at 15000 rpm.

Media Contact

Veronika Gaertner

Marketing Coordinator

919-767-2010

Veronika.Gaertner@us.schunk.com

Technical Contact

Ron Wright

Group Leader Tooling Components

919-767-1965

Ronald.Wright@us.schunk.com

---


Start Your

Free


Subscription to


Industry Market Trends

.