Lead Salt IR Detector Arrays are optimized for stability.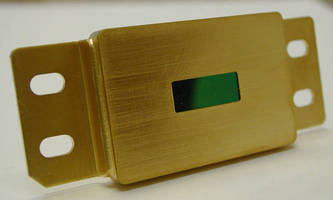 Lead Salt IR Detector Arrays are optimized for stability.
March 22, 2011 - LMA (Linear Multiplexed Array) series features 256-element array, comprised of 6 compensation elements and 250 active elements, that provides real-time measurement compensation for environmental changes. Available in PbS and PbSe material, 256-element array provides sensitivity in 1.0-5.5 µm wavelength region. Stability enhancing features include system noise reducing design, built-in shielding, and optional cooler controller. Rectangular and square configurations are available.

(Archive News Story - Products mentioned in this Archive News Story may or may not be available from the manufacturer.)
Original Press release

Cal Sensors, Inc.
5460 Skylane Blvd
Santa Rosa, CA, 95403
USA



New Family of Infrared Detector Arrays from Cal Sensors Provides 25% Enhancement in Measurement Stability


Cost-effective new sensor technology also features significant noise reduction and refined cooler control

SANTA ROSA, CA -Cal Sensors (www.calsensors.com) announces the global launch of its new LMA (Linear Multiplexed Array) family of lead salt infrared detectors. Available in both PbS and PbSe material, the 256-element array provides market-leading sensitivity in the 1.0 to 5.5 µm wavelength region.

Priced competitively with other leading lead salt array technologies, the new LMA features built-in compensation elements and a refined optional cooler controller, enhancing measurement stability by up to 25%.

The LMA is ideally suited for a wide range of applications including:

gas analysis,

spectroscopy,

process and quality control,

thermal imaging applications / hot-spot detection,
- manufacturing and assembly process lines
- buildings and railway systems.

The LMA ´s superior measurement stability is made possible by three key factors. First, the 256-element array (consisting of six compensation elements and 250 active elements) provides real-time measurement compensation for environmental changes. The measurement is adjusted based on a comparison of the six compensation elements and three active elements on each side of the array. Secondly, the new LMA design reduces the affects of system noise by up to 10%, optimizing the measurement resolution. Finally the LMA ´s built-in shielding isolates the array from environmental variables that could reduce measurement accuracy.

The new optional cooler controller further optimizes measurement stability by providing the means to fine-tune the temperature set point via included software, allowing the array to be set at the optimal operating temperature for a particular target application.

"Setting the appropriate operating temperature is essential to maximize measurement accuracy," explained Renee Dulfer, Marketing and Sales Manager at Cal Sensors. "The cooler is key to optimizing the viability and longevity of the array calibration, and maximizing measurement consistency".

The new LMA technology is available in both rectangular (PbS and PbSe) and square (PbSe) configurations in an industry-standard 28-pin package. The optional refined cooler controller can be integrated with a USB electronics drive board.

Cal Sensors officially announced the launch of the LMA detector arrays at booth 2317 of the PITTCON 2011 Conference & Expo held March 13th to the 18th in Atlanta, Georgia.

Cal Sensors Contact Information
For additional information or engineering assistance:

In North America, contact Cal Sensor's Sales Department, 5460 Skylane Blvd., Santa Rosa, CA 95403, USA. Phone: +1 (707) 303-3837. FAX: +1 (707) 545-5113. E-mail: info@calsensors.com Web: www.calsensors.com.

Cal Sensors also works with distributors in Austria, Belgium, China, Denmark, Finland, France, Germany, Italy, Japan, Korea, the Netherlands, Norway, Sweden, and the United Kingdom. For contact information - please visit http://www.calsensors.com/distributors.htm.

About Cal Sensors
Cal Sensors, an ITW company, has been a leading manufacturer of standard and customized photoconductive (PbS and PbSe) infrared detectors, arrays, and broadband emitters for over 20 years.

Cal Sensors detectors provide superior sensitivity over the 1-5.5 micron wavelengths. Detector configurations include single element, multi-channel, and arrays. Detector technologies include features such as optional spectral filters, optical condensers, thermoelectric coolers, temperature sensors and integrated drive electronics.

Cal Sensors emitters support steady-state or high-pulse rates over the visible to mid-infrared spectrums. Offering high emissivity, reliability and lifetime, Cal Sensors emitters are designed to optimize performance in infrared detection systems.

Manufactured and packaged in Santa Rosa, California and distributed worldwide, Cal Sensors products are offered in standard or custom packages. Common applications include: imaging, spectroscopy, medical, automotive emissions, gas and moisture analysis, temperature measurement, flame detection and combustion control. For additional information, please visit www.calsensors.com.

About ITW Photonics Group
Cal Sensors is a member of the ITW Photonics Group. The ITW Photonics Group was created to bring together and build on the technical expertise of individual companies that specialize in photonics technology and span the full spectrum of wavelengths. The group consists of:


Cal Sensors - IR Detector and Emitter technology

Lumex - LED and LCD technology

Opto Diode Corp - LED, Silicon Photodiodes and Electro-Optical Assembly technology

The synergy of these three industry front-runners provides an unsurpassed range of photonic capabilities within a broad spectrum of markets, including medical, military and industrial controls. The ITW Photonics Group provides integrated solutions that encompass the technology and experience from all three business units, offering design engineers higher performance with greater feature enhancements. For additional information, please visit www.itwphotonicsgroup.com.

---