Product News: Electrical Equipment & Systems, Electronic Components & Devices, Green & Clean
IGBT and Rectifier Diode Modules come in diverse package designs.
Press Release Summary: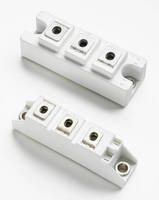 May 23, 2014 - Intended for power control applications, Half-Bridge Circuit IGBT Modules come in S, D, or WD packages with ratings up to 1,200 V and 600 A. Minimized loss promotes efficiency and switching speed, while short circuit capability reduces protection requirements. With ratings up to 1,800 V and 200 A, Phase Leg and Common Cathode Circuit Rectifier Diode Modules come in S and A packages. Reverse recovery loss promotes operational efficiency, and forward voltage allows for reduced heat dissipation.
Original Press Release
New IGBT and Rectifier Diode Modules from Littelfuse Combine High Operating Efficiency with Wide Choice of Package Designs
Press release date: May 21, 2014
Both standard and customized solutions available to meet exacting requirements

CHICAGO – Littelfuse, Inc., the global leader in circuit protection, has added two products to its power control semiconductor line. The new Half-Bridge Circuit IGBT Modules, available in industry-standard S, D, or WD packages with ratings up to 1200V and 600A, offer the high efficiency and fast switching speeds of modern IGBT technology in a robust and flexible format. They are designed for use in a variety of power control applications, including AC motor control, motion/servo control, inverters, power supplies, and solar inverters. The new Phase Leg and Common Cathode Circuit Rectifier Diode Modules, with ratings up to 1800V and 200A, offer high thermal efficiency to ensure long life and reliable performance. Their industry-standard S and A package sizes allow for a maximum output current of 200A for standard diodes. The Rectifier Diode Modules are designed for general-purpose high voltage applications, such as high voltage regulated power supplies, lighting circuits, temperature and motor speed control circuits, UPSs, and battery chargers. Both product lines offer standard and customized solutions to meet circuit designers' exacting performance standards.

"These IGBT modules are ideal for creating flexible and efficient motor control and inverter applications," said Richard Bono, Power Semiconductor Business Development Manager. "They are well-suited for use in industrial electronics like industrial drives and motion control hardware, solar inverters, uninterruptible power supplies, switched mode power supplies and welding machines."

The IGBT Modules offer these key benefits:
Ultra-low loss ensures high efficiency and switching speed.
High ruggedness provides high reliability in demanding applications.
High short circuit capability reduces protection requirements.
Positive temperature coefficient devices can be paralleled easily to increase current handling capability.
Fast free-wheeling diodes, providing an integrated solution in a compact module package.
"The Rectifier Diode Modules convert incoming commercial AC into rectified AC or DC to feed into power switches such as IGBTs or MOSFETs," said Koichiro Yoshimoto, Thyristor Business Development Manager. "Their high thermal efficiency helps ensure long life and reliability in the field."

The Rectifier Diode Modules offer these key benefits:
Low reverse recovery loss helps ensure high operation efficiency.
Low forward voltage allows for reduced heat dissipation.
High surge current capability ensures reliable operation in the field.
Low inductance package means lower distortion in AC mains.
Two-diode phase leg or common cathode topology in compact package allows the circuit designer to build a single- or three-phase rectifier circuit easily using the same module.

Availability
The IGBT Modules and Rectifier Diode Modules are available in bulk pack. Samples are available now for bulk orders; sample requests can be placed through authorized Littelfuse distributors worldwide. For a listing of Littelfuse distributors, please visit Littelfuse.com.

For More Information
Additional information is available on the IGBT Module product page and datasheet or on the Rectifier Diode Module product page and datasheet. If you have technical questions, please contact: Richard Bono, Power Semiconductor Business Development Manager, rbono@littlefuse.com (IGBT Modules) or Koichiro Yoshimoto, Thyristor Business Development Manager, kyoshimoto@littelfuse.com (Rectifier Diode Modules).

About Littelfuse
Founded in 1927, Littelfuse is the world leader in circuit protection with growing global platforms in power control and sensing. The company serves global customers in the electronics, automotive and industrial markets with technologies including fuses, semiconductors, polymers, ceramics, relays and sensors. Littelfuse has over 7,500 employees in more than 35 locations throughout the Americas, Europe and Asia. For more information, please visit the Littelfuse website: littelfuse.com.

 
Media Contact:
Rhonda Stratton
Global Marketing Communications Manager
Littelfuse, Inc.
773-628-0644
rstratton@littelfuse.com
https://twitter.com/littelfuse