Product News: Electronic Components & Devices
Hybrid Capacitors combine polymer, aluminum electrolytic benefits.
Press Release Summary: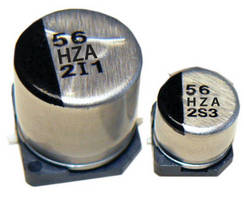 March 5, 2014 - Packaged in V-chip, SMT case, Type HZA Hybrid Polymer-Aluminum electrolytic capacitors exhibit ESR characteristics of conductive aluminum polymer capacitors. Capacitance values range from 10–330 µF at voltage ratings from 25–80 Vdc and ripple current values exceeding 2,000 mA. When operated at rated temperature of 105°C and rated voltage at full ripple current load, capacitors have life expectancy of 10,000 hr.
Original Press Release
Cornell Dubilier Introduces Hybrid Polymer-Aluminum Electrolytic Capacitors
Press release date: February 1, 2014
Cornell Dubilier Electronics, Inc. (CDE) announces the release of type HZA Hybrid Polymer-Aluminum electrolytic capacitors. Combining the advantages of each technology, type HZA has the ultra-low ESR characteristics of conductive aluminum polymer capacitors packaged in a V-chip, SMT case with high capacitance and voltage ratings previously available only in aluminum electrolytic technology.

Capacitance values for type HZA range from 10 to 330 µF at voltage ratings from 25 to 80VDC and ripple current values exceeding 2000mA on some of larger chip sizes. When operated at their rated temperature of 105°C and rated voltage at full ripple current load, type HZA capacitors have an exceedingly long life of 10,000 hrs.

"The hybrid series gives the design engineer the best of both worlds" says Holly Good, Product Manager. "They also have superior smoothing performance at higher switching frequencies and lower temperatures." Good continued.

Since its founding in 1909, Cornell Dubilier has been dedicated to advancing capacitor technology for new applications. The company combines innovative products with engineering expertise to provide reliable solutions for inverters, wind and solar power, electric vehicles, power supplies, motor drives, HVAC, motors, welding, aerospace, telecom, and UPS systems.

A global company, Cornell Dubilier has ISO-9001 certified manufacturing and distribution facilities in Liberty, SC; New Bedford, MA; Mexicali, Mexico; and Shenzhen, China.

For inquiries, contact:
Holly Good
Product Marketing Manager
hgood@cde.com
Phone: (508) 996-8561 x 136