Product News: Materials & Material Processing
Fused Silica Wafers measure quality of optical coatings.
Press Release Summary: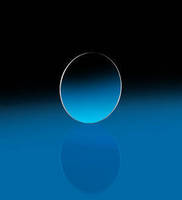 July 11, 2014 - Exhibiting less than 10 Å surface roughness with surface quality of 40-20, TECHSPEC® Fused Silica Wafers are thin, circular pieces of UV fused silica designed to be used as test substrates to measure quality of optical coatings. Each is ultrasonically cleaned and delivered in contaminant-free packaging. Available in 100, 200, and 300 mm diameters, RoHS-compliant wafers have thickness of 1.00 mm and transmission range of 0.2–2.2 µm.
Original Press Release
Fused Silica Wafers Exhibit Less Than 10A Surface Roughness
Press release date: July 8, 2014
Can be Used to Measure the Quality of Optical Coatings

Barrington, N.J. — Edmund Optics® (EO), the premier provider of optical components, introduces new TECHSPEC® Fused Silica Wafers. These versatile wafers are thin, circular pieces of UV fused silica designed to be used as test substrates to measure the quality of optical coatings. Fused Silica Wafers are also outstanding for use as dummy components for set-up processes, as well as for semiconductor microlithography or for micro-electronic-optical applications (MEMS).

Ultrasonically cleaned
Edmund Optics' Fused Silica Wafers Exhibit less than 10Å Surface Roughness with a surface quality of 40-20. Each Fused Silica Wafer has been ultrasonically cleaned and is delivered in contaminant-free packaging to ensure highest quality.

Available in 100 mm, 200 mm and 300 mm diameters
Edmund Optics' Fused Silica Wafers are available in 100 mm, 200 mm and 300 mm diameter sizes. RoHS compliant, all have thicknesses of 1.00 mm and a transmission range of 0.2-2.2 μm. Fused Silica Wafers are in-stock and available for immediate delivery for fast turnaround and excellent value.

About EO:
Edmund Optics® (EO) is a leading producer of optics, imaging, and photonics technology for R&D, electronics, semiconductor, pharmaceutical, biomedical, and military markets around the globe. EO is the world's largest supplier of off-the-shelf optical components. Customers can purchase items by contacting EO at 1-800-363-1992, via the catalog, or via the website at www.edmundoptics.com

Company Contact:
Kirsten Bjork-Jones
Director Global Marketing Communications
Edmund Optics®, Inc.
101 East Gloucester Pike
Barrington, NJ 08007 U.S.A.
Phone: 1-800-363-1992
Fax: 1-856-573-6295
email: kbjork-jones@edmundoptics.com

European Contact:
Agnes Huebscher
Director European Marketing
Edmund Optics
Zur Giesserei 8
76227 Karlsruhe, Germany
Tel.:   +49 (0)721-62737-38
Fax:   +49 (0) 721 6273750
E-Mail:   AHuebscher@edmundoptics.de