Product News: Chemical Processing & Waste Management, Fluid & Gas Flow Equipment, Mechanical Components & Assemblies, Machinery & Machining Tools
Filter Cartridge increases throughput in melt filtration.
Press Release Summary: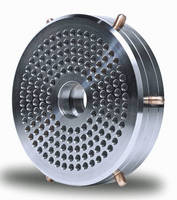 September 25, 2013 - Suited for screen changers and melt filters, filter cartridge has stable structure that prevents pressure loss and deformation of steel filter fabric (screen medium) caused by mechanical stresses encountered during production startup. Rheological optimization of cartridge design eliminates stagnation zones and makes possible 100% utilization of open filter area. Symmetrical structure of filter cartridge facilitates secure handling and facilitates screen media replacement without cleaning.
Original Press Release
At K 2013: New Filter Cartridge Increases Throughput in Melt Filtration, Enhances Melt Quality, and Lengthens Filter Life
Press release date: September 18, 2013
Nordson KREYENBORG Cartridge Eliminates Screen Deformation and Other Problems Often Encountered with Standard Disc or Candle Systems for Filter Media

MÜNSTER, GERMANY – An innovative filter-media system for screen changers and melt filters overcomes many of the shortcomings of standard filter discs or candles, it was announced today by Nordson KREYENBORG GmbH, which will introduce the system at K 2013 (Hall 9, Stand A44-48).

The new filter cartridge prevents pressure loss and deformation of the steel filter fabric, or screen medium, having a robust, stable structure that enables the medium to withstand the high mechanical stresses encountered during production startup. Rheological optimization of the cartridge design eliminates stagnation zones and makes possible 100% utilization of the open filter area, prolonging filter life. The symmetrical structure of the filter cartridge facilitates secure and user-friendly handling and easy replacement of screen media without cleaning.

The new filter cartridge is an alternative to standard filter discs and candles in which surface area is increased through pleating of the filter fabric—that is, installation of the fabric in a wave or wrinkle pattern instead of being flat. The pleating makes the fabric susceptible to mechanical stresses, which can reduce the efficiency of melt filtration by causing the pleated layers to be pushed together or squeezed during processing. This also reduces the working life of the filter, increasing downtime for filter changes and adding costs for cleaning. Backflushing of the discs and candles in order to clean the filter medium is not possible because the reversed polymer flow can damage the medium.

Founded in 1953, the Kreyenborg Group is a leading international supplier of polymer processing systems. In 2013, Nordson Corporation acquired the KREYENBORG GmbH business, which manufactures melt filtration systems, gear pumps, and melt valves; and BKG BRUCKMANN & KREYENBORG GRANULIERTECHNIK GmbH, which produces underwater pelletizing systems.Both are now part of Nordson's Polymer Processing Systems product offering. Visit www.kreyenborg.com.

Nordson Corporation (Nasdaq: NDSN) engineers, manufactures and markets differentiated products and systems used for the precision dispensing and processing of adhesives, coatings, polymers and plastics, sealants, biomaterials and other materials and for fluid management, test and inspection, UV curing and plasma surface treatment, all supported by application expertise and direct global sales and service. Nordson serves a wide variety of consumer non-durable, durable and technology end markets including packaging, nonwovens, electronics, medical, appliances, energy, transportation, construction, and general product assembly and finishing. Founded in 1954 and headquartered in Westlake, Ohio, the company has operations and support offices in more than 30 countries. Visit Nordson on the web at www.nordson.com, www.twitter.com/Nordson_Corp or www.facebook.com/nordson.

Robert J. Martino
Martino Communications Inc.
8 Main Street / P.O. Box 379
Hastings-on-Hudson, NY 10706 U.S.A.
Tel: 1-914-478-0754
Email: bob@martinocommunications.com
www.martinocommunications.com

www.twitter.com/MartinoComms