Product News: Computer Hardware & Peripherals
Fanless Touch Panel Computer targets medical applications.
Press Release Summary: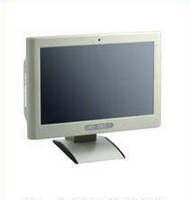 March 13, 2014 - Measuring less than 3 in. thick, Model MPC225-873 is powered by 3rd Generation Intel® Core™ i7/ i5/ i3/ Celeron® processor. Unit is housed in IPX1-compliant chassis with IP65/NEMA 4 rated front panel and 22 in. WSXGA TFT LCD. In addition to PCI or PCIe x4 slots for video capture or data acquisition card, unit includes 2.5 in. SATA HDD and 1 mSATA SSD for storage, 2 isolated 10/100/1000 Mbps Ethernet, 1 isolated RS-232/422/485, 2 RS-232, 2 isolated USB 2.0, 2 USB 2.0, 2 USB 3.0, and DisplayPort.
Original Press Release
Axiomtek Introduces MPC225-873, New Slim-type 22-inch Fanless Medical Touch Panel Computer Powered by 3rd Generation Intel® Core(TM) i7/ i5/ i3/ Celeron® Processor
Press release date: February 26, 2014
Taipei, Taiwan — Axiomtek, one of the world's leading designers and manufacturers of innovative, high performance and reliable PC-based industrial computer products, has introduced the new MPC225-873, its slim-type, 22-inch widescreen medical touch panel computer. The fanless MPC225-873 is UL60601-1/EN60601-1, CE, FCC Class B certified to ensure medical operation safety. Powered by 3rd Generation Intel® Core™ i7/ i5/ i3/ Celeron® processor, the high-performance MPC225-873 is ideal for medical image processing and medical measuring instrument applications, nursing cart, point-of-care terminal, or infotainment terminal use in healthcare environments. This medical panel PC has IPX1 compliant chassis and IP65/NEMA 4 rated spill- and dust-resistant front panel and is equipped with a 22-inch WSXGA TFT LCD display (250nits). Additionally, the MPC225-873's isolated I/O function ensures uninterrupted and stable operation.

Axiomtek's MPC225-873
22-inch TFT Fanless Super Slim 3rd Generation Intel® Core-based Medical Touch Panel Computer
"The MPC225-873 offers flexible CPU options with socket type which reduces cost, increases convenience over onboard CPU, and still maintains a fanless operation and long product life cycle support. The MPC225-873 is only 76mm (less than 3") thick and weight 9.4kg (20.7 lbs.) This slim panel PC is easy to install on medical carts and integrate with medical devices for use as an information terminal. It also offers isolated I/O interfaces to eliminate distribution and increase signal quality. We also include a convenient, on/off single-touch button to disable touch screen function for quick cleaning and other shut down purposes," said Virgil Hsu, Product Manager of Product & Marketing Division at Axiomtek.

For expansion capability, the MPC225-873 supports one PCI or PCIe x4 slots for video capture or data acquisition card. This flexible Panel PC also offers two PCI Express Mini Card slots for wireless LAN card. The built-in 5 mega pixels camera, microphone and stereo speakers allow medical professionals to execute remote operation with ease.

The MPC225-873 is designed with connectivity in mind. Bluetooth is available as an option for wireless connection with medical peripheral devices. Optional WiFi (802.11 b/g/n) is available for wireless, real-time connection, to provide access to patient records. To improve patient treatment accuracy, the optional RFID (radio frequency identification) feature provides an effective way to quickly validate patient identification for proper course of treatment.

The touch panel computer has rich I/O connections and ample storage capacity.  It includes one 2.5" SATA HDD and one mSATA SSD for storage, super multi drive, two isolated 10/100/1000Mbps Ethernet, one isolated RS-232/422/485, two RS-232, two isolated USB 2.0, two USB 2.0, two USB 3.0, DisplayPort, and audio (MIC-in/Line-out). The flexible mounting options include VESA arm and desktop stand.

The MPC225-873's target availability date is in the month of March 2014.  For more product information, please visit our global website www.axiomtek.com or contact our sales representative at info@axiomtek.com.tw.

Summary of Main Features:
Socket G2 3rd Generation Intel® Core™ processor with Intel® QM77 Express chipset
22-inch WSXGA TFT LCD (250 nits) fanless super-slim medical panel computer – MPC225-873
UL60601-1/EN60601-1, CE & FCC class B certified
Spill and dust resistant design (front panel: IP65, whole enclosure: IPX1)
Flexible CPU options with socket type reduces cost, increases convenience over onboard CPU
Built-in 5 mega pixels camera, super multi drive
One PCI or one PCIe x 4 expansion slot, and two PCIe mini card slots
Isolated USB/COM/Ethernet ports supported
Supports touch screen on/off key
VESA arm and desktop stand