Compliance Test Software debugs eMMC NAND flash memory cards.
Press Release Summary: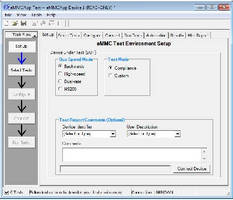 December 20, 2012 - With N6465A eMMC Test Application, memory design engineers can validate, debug, and characterize physical-layer properties of eMMC NAND flash memory cards by automating execution of parametric tests, including electrical and timing measurements, on Infiniium 9000, 90000A, 90000 X-, and 90000 Q-Series oscilloscopes. Ensuring compliance with JEDEC JESD84-B451 specification, software automatically sets up oscilloscope to trigger right signal to run each test and generates HTML report at end of test.
Original Press Release
Agilent Technologies Introduces Industry's First eMMC Compliance Test Application
Press release date: December 17, 2012
SANTA CLARA, Calif., -- Agilent Technologies Inc. (NYSE: A) today introduced the industry's first eMMC (embedded multimedia card) compliance test application for embedded storage solutions. The Agilent N6465A eMMC test application helps memory design engineers validate and debug eMMC NAND flash memory cards faster by automating the execution of a series of parametric tests, including electrical and timing measurements, on Agilent Infiniium 9000, 90000A, 90000 X- and 90000 Q-Series oscilloscopes.

The eMMC NAND flash memory technology can operate at a maximum clock rate of 200 MHz in high-speed mode and provides ultrafast memory for smartphones, tablets and other mobile devices. The eMMC standard is widely used.

The Agilent N6465A eMMC compliance test application helps engineers test, debug and characterize physical-layer properties of eMMC memory to ensure compliance with the JEDEC JESD84-B451 specification. The application automatically sets up the oscilloscope to trigger the right signal to run each test and generates an HTML report at the end of the test. The report compares the results with the specified test limit and indicates how closely the device passes or fails each test.

"Our new eMMC compliance test software allows engineers to achieve conformance in the fastest and most efficient manner," said Jay Alexander, vice president and general manager of Agilent's Oscilloscope Products Division. "The Infiniium 9000 Series oscilloscopes complement the eMMC compliance test software in providing an affordable solution with the required bandwidth and performance to trigger on the eMMC signals for full parametric testing."

U.S. Pricing, Availability and Additional Information

The Agilent N6465A eMMC compliance test application is available now for $4,000. Additional information about Agilent's eMMC compliance test solution is available at www.agilent.com/find/N6465A. Product images are available at www.agilent.com/find/N6465A_images.

Agilent's Digital Test Standards Program
Agilent Digital Test Standards Program experts are involved in various international standards committees, including the Joint Electronic Devices Engineering Council, PCI-SIG, Video Electronics Standards Association, Serial ATA International Organization, Serial Attached SCSI (T10), USB-Implementers Forum, MIPI Alliance, Ethernet standards (IEEE 802.3), Optical Internetworking Forum and many others. Agilent's involvement in these standards groups enables the company to bring the right solutions to market when customers need them.

About Agilent Technologies
Agilent Technologies Inc. (NYSE: A) is the world's premier measurement company and a technology leader in chemical analysis, life sciences, diagnostics, electronics and communications. The company's 20,500 employees serve customers in more than 100 countries. Agilent had revenues of $6.9 billion in fiscal 2012. Information about Agilent is available at www.agilent.com.

Contact:
Janet Smith, Americas
+1 970 679 5397
Twitter: @JSmithAgilent

Sarah Calnan, Europe
+44 (118) 927 5101
sarah_calnan@agilent.com

Iris Ng, Asia
+852 31977979
iris-hw_ng@agilent.com