Product News: Electrical Equipment & Systems, Mounting & Attaching Products, Fasteners & Hardware
Cable Tie-Hooks stay securely fixed in place where installed.
Press Release Summary: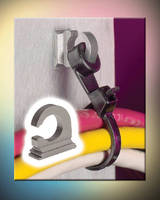 October 18, 2013 - Available for installation in .040–.125 in. thick metal sheets, PEM Type TDO™ Cable Tie-Hooks provide permanent attachment points for wires and cables inside electronic chassis or enclosures. Self-clinching units enable tie-bundled wires to be removed and returned when components need to be accessed for service or when wires/cables must be replaced. Installing without screws or adhesives, hooks enable panels on reverse side to remain flush, minimizing EMI/RFI and preventing contamination.
PennEngineering® (Penn Engineering)
Original Press Release
Patented PEM® Cable Tie-Hooks Remain Securely Fixed in Place Where Designed and Installed
Press release date: October 8, 2013
HARDWARE SOLUTIONS FOR ELECTRONIC CHASSIS OR ENCLOSURES:

Patented PEM® self-clinching cable tie-hooks remain securely fixed in place where installed to provide permanent attachment points for mounting wires and cables inside electronic chassis or enclosures.  They install quickly without requiring screws or adhesives and their locations and positions can be specified during the design process to provide optimal layout for wires and cables inside assemblies.

PEM Type TDO™ cable tie-hooks are part of a growing family of self-clinching hardware solutions uniquely engineered to resolve bundled-wire challenges in electronic equipment.  They can be supplied in several sizes for installation in metal sheets as thin as .040" / 1.02mm and as thick as .125" / 3.18mm.

The hooks enable tie-bundled wires to be attached, removed, and returned to mounting points when components need to be accessed for service or when wires or cables must be replaced.  The hook feature allows ties to remain intact and wires to remain wrapped.  In addition, the feature (with inner diameter .340" / 8.64mm on the largest version) can serve both as a guide and a mount for lengths of cable or tubing.

Upon installation of the hooks, panels on the reverse side of installation remain entirely flush without any spaces or openings, which adds value by minimizing EMI/RFI and preventing any potential contamination of electronics by dust or dirt.

Detailed specifications, CAD models, and performance data (Bulletin TD) for these and other RoHS-compliant wire mount fasteners can be accessed at www.pemnet.com

Contact Michael J. Rossi, PennEngineering®, 5190 Old Easton Road, Danboro, PA 18916-1000 USA.  Phones: 800-237-4736 (toll-free in the U.S.) and 215-766-8853; Fax: 215-766-0143. Web site: www.pemnet.com