Product News: Vision Systems
C-Mount Lenses feature continuous focusability from 80-200 mm.
Press Release Summary: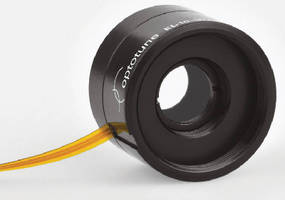 November 19, 2012 - Combining Electrically-Focus Tunable Lenses with C-Mount compatible housings, C-Mount Focus-Tunable Lenses integrate into wide range of imaging systems. Ability to adjust focal length allows user to replace multi-lens focus or zoom systems. In order to shift focal range, any 12 mm diameter plano-convex or plano-concave lens with edge thickness of less than 4.7 mm may be used as offset lens. For imaging applications in visible spectrum, lens with pre-mounted -150 mm BK7 PCV lens is available.
Original Press Release
C-Mount Focus-Tunable Lenses
Press release date: November 16, 2012
C-Mount Focus-Tunable Lenses provide continuous focusability from 80-200mm

Designed for easy system integration

Barrington, N.J. - Edmund Optics (EO), the premier provider of optical components, introduces new C-Mount Focus-Tunable Lenses. These versatile lenses are ideally suited for a wide variety of imaging applications.

Replaces multi-lens focus or zoom systems

Edmund Optics' C-Mount Focus-Tunable Lenses combine Electrically-Focus Tunable Lenses with C-Mount compatible housings for easy mechanical integration into a wide range of imaging systems. When a control current is applied to the lens, its focal range is adjusted from +80 to +200 mm. This variable tuning range - the ability to adjust focal length - allows the user to replace multi-lens focus or zoom systems, saving space, time and cost.

Several coatings and an offset lens feature available

In order to shift the focal range, any 12 mm diameter plano-convex (PCX) or plano-concave (PCV) lens with an edge thickness of less than 4.7 mm may be used as an offset lens. For imaging applications in the visible (VIS) spectrum, a C-Mount Focus-Tunable Lens with a pre-mounted -150 mm BK7 PCV lens is available. Near infrared (NIR) coating is also available. For planning and specification purposes, prescription data is also available for the user to model the effect an offset lens will have on the overall focal range. C-Mount Focus-Tunable Lenses are in-stock and available for immediate delivery for fast turnaround and excellent value.

About EO:
Edmund Optics® (EO) is a leading producer of optics, imaging, and photonics technology for R&D, electronics, semiconductor, pharmaceutical, biomedical, and military markets around the globe. EO is the world's largest supplier of off-the-shelf optical components. Customers can purchase items by contacting EO at 1-800-363-1992, via the catalog, or via the website at www.edmundoptics.com.

Company Contact:
Kirsten Bjork-Jones
Director Global Marketing Communications
Edmund Optics®, Inc.
101 East Gloucester Pike
Barrington, NJ 08007 U.S.A.
Phone: 1-800-363-1992
Fax: 1-856-573-6295
email: kbjork-jones@edmundoptics.com