Product News: Machinery & Machining Tools
Bolt Seat Resurfacing Tool ensures tight steam turbine cover fit.
Press Release Summary: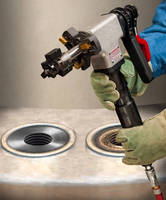 April 3, 2014 - Offered in pneumatic, electric, and battery powered configurations, ESCO MILLHOG® BSR Tool uses cutting head equipped with 3 flat-face, TiN-coated blades to cleanly remove corrosion from and resurface turbine shell diaphragm retainer bolt holes. Portable tool, suitable for all surfaces subjected to corrosion, can remove metal up to 1.5 in. deep and is capable of 0.001 in. flatness accuracy. Tool accommodates different sized heads to fit hole and circumference that requires resurfacing.

Original Press Release
Bolt Seat Resurfacing Tool Assures Steam Turbine Covers Fit Tight
Press release date: April 2, 2014
A new bolt seat resurfacing tool that makes sure turbine cover bolts fit properly after repairs, and is suitable for all surfaces subjected to corrosion is being introduced by ESCO Tool of Holliston, Massachusetts.

The ESCO MILLHOG® BSR Tool features a cutting head that is equipped with three flat-face blades to cleanly remove corrosion and resurface turbine shell diaphragm retainer bolt holes.  Capable of 0.001" flatness accuracy, this tool can remove metal up to 1.5" deep and be equipped with different sized heads to fit the hole and circumference that requires resurfacing.

Fully portable to provide a fast and accurate way to resurface multiple retainer bolt holes without cutting fluids, the ESCO MILLHOG® BSR Tool uses TiN coated blades in a secure blade lock system and has a robust gear drive that is field-proven in numerous beveling and pipe machining applications.  It is offered in pneumatic, electric, and battery powered configurations.

The ESCO MILLHOG® BSR Tool is priced from $4,995.00 and is offered in a wide range of sizes.  Pricing is available upon request.

For more information contact:

ESCO Tool
A Unit of Esco Technologies, Inc.
Matthew Brennan, Marketing Director
75 October Hill Rd.
Holliston, MA 01746
(800) 343-6926  FAX (508) 429-2811
e-mail: matt@escotool.com
www.escotool.com