Product News: Electrical Equipment & Systems
Bidirectional Battery Switch comes in space-saving WCSP.
Press Release Summary: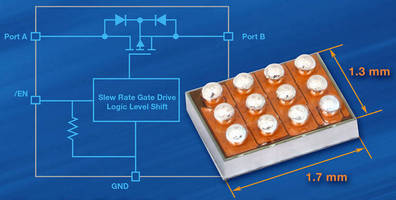 February 26, 2014 - Use for low-voltage battery isolation in portable electronics, healthcare devices, and instrumentation, Vishay Siliconix SiP32101 comes in 1.3 x 1.7 x 0.55 mm, 12-bump WCSP and incorporates slew rate control. Active-low enable pin can interface with low-voltage GPIOs directly, and integrated pull-down resistor on EN pin prevents spurious turn-on in low-power states where GPIO may be left floating. On-resistance is 6.5 mΩ at 3.3 V, input range is 2.3–5.5 V, and soft turn-on time is 2 msec.
Original Press Release
Vishay Intertechnology Bi-Directional Battery Switch in WCSP Package Saves 91% PCB Space Over Discrete MOSFETs
Press release date: February 25, 2014
Occupying Only 2.3 mm², Device Features Industry-Low On-resistance of 6.5 mΩ at 3.3 V and Quiescent Current of 0.015 nA

MALVERN, Pa. — Vishay Intertechnology, Inc. (NYSE: VSH) today introduced a new 6.5 mΩ bidirectional battery switch with slew rate control for low-voltage battery isolation in portable electronics, healthcare devices, and instrumentation. Designed to save 91 % PCB space compared to using discrete MOSFETs in these space-constrained applications, the Vishay Siliconix SiP32101 combines industry-low on-resistance and ultra-low quiescent current in a compact 12-bump WCSP package.

In smartphones, tablets, digital cameras, portable healthcare meters, data storage systems, and more, PCB space is at a premium. In these products, discrete MOSFET solutions for battery isolation utilize three components and typically occupy 26 mm². The SiP32101 has a footprint of only 2.3 mm², saving valuable space and lowering the overall component count to simplify designs. In addition, the device has an active-low enable pin that can interface with low-voltage GPIOs directly, eliminating the need for extra level shifting circuitry or higher-voltage gate drivers. An integrated pull-down resistor on the EN pin prevents spurious turn-on in low-power states where the GPIO may be left floating.

The SiP32101's low 6.5 mΩ on-resistance at 3.3 V reduces power losses and increases efficiency. Combined with a wide 2.3 V to 5.5 V input voltage range and a soft turn-on time of 2 ms to minimize inrush current, it is the ideal device for high-capacity battery applications and high-current load switching. The load switch consumes very low currents in both on and off states. It uses a mere 0.015 nA quiescent current and 0.01 nA shutdown current, ensuring that the battery won't drain quickly if the device is left idle for a long period of time.

Operating over a temperature range of -40 °C to +85 °C, the battery load switch released today is RoHS-compliant, halogen-free, and available in a 1.3 mm by 1.7 mm by 0.55 mm WCSP package.

Samples and production quantities of the SiP32101 are available now, with lead times of 10 weeks for large orders. Pricing for U.S. delivery only starts at $0.93 per piece in 1,000-piece quantities.

Vishay Intertechnology, Inc., a Fortune 1000 Company listed on the NYSE (VSH), is one of the world's largest manufacturers of discrete semiconductors (diodes, MOSFETs, and infrared optoelectronics) and passive electronic components (resistors, inductors, and capacitors). These components are used in virtually all types of electronic devices and equipment, in the industrial, computing, automotive, consumer, telecommunications, military, aerospace, power supplies, and medical markets. Vishay's product innovations, successful acquisition strategy, and "one-stop shop" service have made it a global industry leader. Vishay can be found on the Internet at www.vishay.com.

http://twitter.com/vishayindust
http://www.facebook.com/VishayIntertechnology