Product News: Test & Measuring Instruments, Computer Hardware & Peripherals
Active Interface Modules cover 500-690 V range.
Press Release Summary: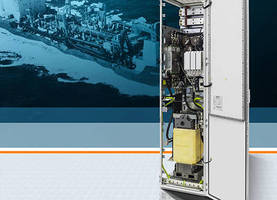 February 26, 2014 - Available for Sinamics S120 low-voltage converter, 1,700 kW Active Interface Modules combine with Active Line Modules to form functional unit. Active Interface Modules filter out most harmonics to keep distortions very low on line side. Units incorporate liquid-cooled reactor, liquid-cooled filter module, and associated connecting elements. With 4 identical modules connected in parallel, up to 5,700 kW can be reached on motor side and up to 6,460 kW can be reached on line side.
Original Press Release
Siemens Introduces Liquid-cooled Active Interface Modules for Sinamics S120 Converters
Press release date: February 18, 2014
Liquid cooling reduces the need for room climate control
Saves energy and operating costs

For the first time, the Siemens Drive Technologies Division is offering liquid-cooled Active Interface Modules (AIM) for the Sinamics S120 low-voltage converter. They cover the voltage range from 500 to 690 V, and have a power of 1700 kW. In addition to the already available air-cooled modules, there is now a liquid-cooled solution, which transfers its heat almost completely to the cooling liquid instead of dissipating it into the surroundings. This means that not only the room climate control, but also the associated unavoidable installation, maintenance and operating costs can be greatly reduced. As a fan is not required, the intrinsic consumption of the modules is also lower.

The liquid-cooled Active Interface Module of Siemens Drive Technologies.
The Siemens Drive Technologies Division is offering liquid-cooled Active Interface Modules (AIM) for the Sinamics S120 low-voltage converter.

In contrast to converters with a rectifier input on the line side, Sinamics S120 converters with Active Line Modules can feed back and so save a great deal of energy. Active Interface Modules combine with the Active Line Modules to form a functional unit and, as a line connection, are essential for converter operation. The Active Interface Module filters out most of the harmonics to keep harmonic distortions very low on the line side. The new modules incorporate a liquid-cooled reactor, a liquid-cooled filter module and the associated connecting elements. This facilitates an efficient cooling design with liquid cooling throughout. Up to four identical modules can be connected in parallel so that up to 5700 kW can be reached on the motor side and up to 6460 kW on the line side. This enables the efficient converters to cover an even wider range of applications, and they are also ideally suited to applications with a high power requirement.

Thanks to their compact design, the liquid-cooled converters are suitable for use in confined spaces, for example in ship propulsion systems, and in harsh environments, such as are encountered in the mining, oil and gas industries.

Siemens at Hannover Messe 2014: www.siemens.com/hannovermesse
The Siemens Industry Sector (Erlangen, Germany) is the world's leading supplier of innovative and environmentally friendly automation and drive technology, industrial software and technology-based services. The Sector's comprehensive portfolio covers the entire industrial value chain, from product design, engineering and production to services. Siemens enhances its customers' productivity, efficiency, and flexibility in a wide variety of different industries. With a global workforce of more than 100,000 employees, the Industry Sector comprises the Divisions Industry Automation, Drive Technologies and Customer Services as well as the Business Unit Metals Technologies. For more information, visit http://www.siemens.com/industry

Mr. Franz-Ferdinand Friese
Drive Technologies Division
Siemens AG
Gleiwitzerstr. 555
90475  Nuremberg
Germany
Tel: +49 (911) 895-7946
franz.friese@siemens.com