Press Release Summary: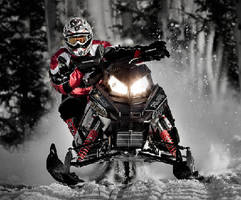 November 30, 2010 -
Original Press Release
Polaris Snowmobiles Run-Off with Environmentally-Friendly Gardobond® EPP Technology from Chemetall
Press release date: November 17, 2010
Environmentally-friendly metal pretreatment technology replaces former iron phosphating process
Polaris snowmobiles run-off with environmentally-friendly Gardobond® EPP technology from Chemetall
Polaris Industries is credited as one of the first makers of production snowmobiles. As the leading manufacturer for recreational and outdoor products, Polaris has changed their snowmobile pretreatment from the conventional iron phosphate process to the environmentally-friendly Gardobond® EPP technology from Chemetall. The new conversion coating offers significant process cost savings due to less energy and water consumption as well as simplified waste water treatment.
Focused on invention and passionate product development from the earliest days, Polaris Industries has become the number one in world market share for off-road vehicles such as snowmobiles and ATVs. While the primary use of the first vehicles invented in 1954 was to make hunting locations more accessible, the vehicles made today are used by the whole family for recreation and winter fun. Driven by always finding a better solution, the dedicated engineers and designers at Polaris continuously introduced products that enhanced performance, comfort, ride quality and safety than any other companies.
Polaris understands the importance of sustainable production processes as well as a clean environment. The company is committed to offer emission-compliant products while reducing high energy and water consumption and wastes from their manufacturing operations. This is the reason Polaris changed the metal pretreatment of their snowmobiles to Chemetall's new Gardobond EPP conversion coating. Since 2009 the snowmobiles with the new conversion coating are running off the assembly line.
"Snowmobiles have to withstand harsh environments: from cold snowy weather, to high-speed driving on wet salty roads. Chemetall's Gardobond EPP helps us to improve paint adhesion and corrosion resistance while being environmentally-friendly", says Jim Kvidt, Paint Line Manager from Polaris.
Gardobond Enhanced Performance Pretreatment (EPP) complies with the increasingly demanding environmental requirements. Free of hazardous heavy metals the process ensures simplified waste treatment, and produces almost no sludge or scale for easy maintenance. The new technology works at ambient temperature thus realizing high energy savings by eliminating the heating system in the conversion stage.
"With Gardobond EPP we could significantly reduce our process costs," comments Al Derosier, Production Manager from Polaris, refering to savings of 80% on energy costs and 35% on water consumption and waste water treatment costs. "Changing to Gardobond EPP reduced our pretreatment cost per unit by almost half, while keeping our high-performance quality standard and eco-friendly promise," he concludes.
Gardobond® EPP is a registered trademark of Chemetall.
Further Information
About Gardobond® EPP
Gardobond® EPP is a conversion coating process for multi-metal applications. The advanced pretreatment process is formulated to yield performance similar to an iron-phosphate process and approaching that of a zinc-phosphate process. Developed to be more environmentally-friendly, Gardobond® EPP has only a very low phosphorous content. Free of hazardous heavy metals it ensures simplified waste treatment, and produces almost no sludge or scale for easy maintenance. Gardobond® EPP works on most all metal substrates and is compatible with current paint system.
About Chemetall
Chemetall, a division of Rockwood Holdings, Inc. (NYSE: ROC), is a leading global supplier of special chemicals with a focus on processes for the surface treatment of metals and plastics, as well as selected areas of fine chemicals, including lithium and cesium. Chemetall is headquartered in Frankfurt am Main, Germany, and comprises about 40 companies worldwide. With 2,750 employees, the Group achieved sales of about Euros 714 million (in 2009). More at
www.chemetall.com
.
About Polaris Industries
With annual 2009 sales of $1.6 Billion, Polaris designs, engineers, manufactures and markets off road vehicles (ORVs) including: all-terrain vehicles (ATVs), the Polaris RANGER, snowmobiles, and Victory motorcycles for recreational and utility use. Polaris Industries Inc. trades on the New York Stock Exchange under the symbol "PII," and the Company is included in the S&P Small-Cap 600 stock price index. Information about the complete line of Polaris products, apparel and vehicle accessories are available from authorized Polaris dealers or anytime from the Polaris homepage at
www.polarisindustries.com
.
Press Contact:
Sandra Zirm
Global Marketing Communications Manager
Tel. +49-(0)69-7165-3605
Fax. +49-(0)69-7165-3428
sandra.zirm@chemetall.com
Chemetall GmbH
Trakehner Straße 3
60487 Frankfurt am Main