EIC Protector(TM) Thermoelectric Air Conditioners Help Safeguard U.S Borders through Cooling and Heating of Monitoring Systems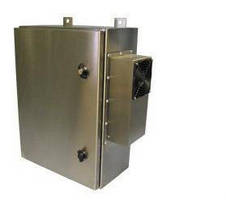 EIC Protector(TM) Thermoelectric Air Conditioners Help Safeguard U.S Borders through Cooling and Heating of Monitoring Systems
Click Here to Enlarge Picture


(Archive News Story - Products mentioned in this Archive News Story may or may not be available from the manufacturer.)

EIC Solutions, Inc.
1825 Stout Drive
Warminster, PA, 18974-1157
USA




Press release date: September 9, 2011

Warminster, PA - EIC Solutions, Inc., a leading manufacturer of thermoelectric air conditioners and electronic enclosures, recently completed the delivery of 110 Protector(TM) Series Air Conditioned Stainless Steel Enclosures for a Department of Homeland Security project. The EIC Protector(TM) Series was chosen as a solution for cooling and heating RFID systems used for frequent crosser recognition at U.S border crossings, which have become more widespread as post-9/11 security measures have increased.

Working closely with a systems integrator and drawing from previous military and defense experience, EIC customized the enclosures to house the monitoring system electronics, protecting the components from the harsh environments typical of the southern and northern U.S borders.

"We knew right away we needed to provide a solution that required virtually no maintenance and could also be supplemented with a heating unit, because the temperatures in these locations varies from very warm to extremely cold," says Josh Liegel, an EIC sales engineer. "Keeping the camera system's electronics from overheating was imperative because they protect US borders from illegal entry and exit."

The security systems include cameras that are used to document cars entering and leaving the United States by recording the license plate numbers of the vehicles as well as RFID (Radio-Frequency Identification) tag readers for frequent crossers.

The EIC Protector(TM) Series Air Conditioned Enclosures proved to be an ideal fit for the application. The Protector Series(TM) Wall-mount Air Conditioned Electronic/Electrical Equipment Enclosures are designed to safely house and cool electronic equipment in a wide range of applications. These stainless steel enclosures carry a NEMA 4X rating and are suitable for wall-mounting, pole-mounting or floor-mounting and are available with a variety of options.

To meet the requirements, custom pole-mount stainless steel enclosures were modified for the application. The enclosures were used to house the security equipment and outfitted with an EIC ThermoTEC(TM) 140B Series 400 BTU (AC) Thermoelectric Air Conditioner with a supplemental heating option.

The ThermoTEC(TM) air conditioners were through-mounted vertically on the enclosures. The through-mounting provided ample room to house the cooling equipment so that the camera equipment did not need to be altered.

The ThermoTEC(TM) systems offered a reduction in security system downtime by preventing failures due to the temperature extremes associated with U.S borders, said Liegel." To date, the systems integrator has installed over 110 of EIC Air Conditioned Enclosures at border crossings throughout the U.S."

More information about EIC Solutions, Inc., this product line, and other applications for protecting sensitive electronics can be found online at eicsolutions.com.

About EIC Solutions, Inc.
EIC Solutions, Inc., specializes in the design and manufacturing of thermoelectric cooling systems, air conditioned electronic enclosures, and transit cases for a wide range of applications. Our products have been used in a variety of enclosure cooling applications involving the protection of electronic equipment both indoors and outdoors. Dedicated to protecting customer's investments in computers and sensitive electronics, EIC provides innovative solutions and superior service. We are committed to providing the highest quality products and to serving our customer's needs quickly and efficiently. If you have questions regarding any of our products please contact us at 800-497-4524 or visit our website at eicsolutions.com.
---