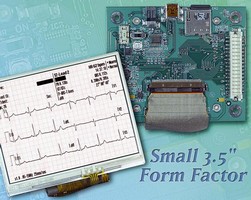 Along with 3.5 in. 320 x 240 TFT LCD, controller, LCD driver circuitry, processor, and graphic controller, ezLCD-103-EDK incorporates built-in intelligence that accelerates development time for product designs requiring small form-factor displays with GUI. Supply voltage is +5 V standard or 3.3 V optional, and SD flash card provides for graphics expansion, OEM data storage, and logging...
Read More »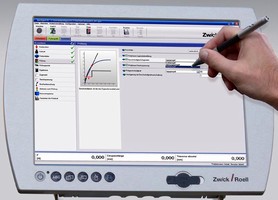 Mounted directly on materials-testing machine, Touch PC combines touch-screen with embedded industrial computer. Unit can be rotated, swiveled, tilted, raised, and lowered to keep status display with force, travel, and machine status in operator's field of vision. Along with intuitive use of testXpert-® software, solution offers short paths between PC and specimen, Runtime and Designtime...
Read More »
Reversing Ramped Field Capacitive (RRFC(TM)) touch utilizes low-power circuitry and reversing ramped electro-static fields for precision and drift-free performance. It can be integrated into dual-input applications with EMR-® pen-input technology or work alone on platforms requiring only finger touch interface. Accuracy, stability, and sensitivity are maintained even when working on battery...
Read More »
Everest all-in-one computers feature 10.4 or 12.1 in. color LCD heated touchscreen that addresses challenge of condensation refreezing on touchscreen in applications where forklift is driven from freezer to ambient environment and back again. They utilize Intel processors, industrial hard drives, integrated 802.11 wireless, and multiple I/O. Internal 10-60 Vdc power supply allows for connection...
Read More »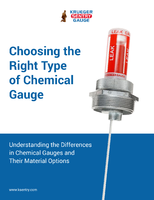 Understanding the Differences in Chemical Gauges and Their Material Options
Read More »
Includes All-in-One and Mini PC's, Laptops and Email Archival Appliance ORLANDO, FL (February 19, 2008) - Tangent Inc., a leading provider of technology solutions, will exhibit (Booth 2080) a full line of medical-grade PC's at HIMSS, including all-in-one, point-of-care PCs, a fanless and cart-ready, energy efficient PC, a rugged mini PC, wash-down ready workstations, monitors, keyboards and an...
Read More »
By incorporating LCD, controller, driver circuitry, processor, and graphic controller, ezLCD Series enables OEMs to customize displays for their specific product applications. Programmable color TFT LCD modules, available with touchscreens from 2.7-10.4 in., incorporate all necessary components for GUI in one package and offer PC-based software tools for customizing firmware, graphical objects,...
Read More »
Offered in 32, 40, 42, and 46 in. sizes, MicroTouch DST touch screens are unaffected by surface contaminants and feature dynamic touch, which ignores static objects on screen and allows for multi-user touch capabilities. Screens are based on Dispersive Signal Technology (DST) that recognizes touch by interpreting bending waves within glass substrate created by contact of finger/stylus on glass.
Read More »
Available in 8.4, 12, and 15 in. units, PS3000 series Light Duty Industrial touchscreen Computers include system boot from compact flash card and early warning PC failure detection. Systems support Pro-face RAS functionality, allowing local/remote monitoring or alerts of IPC system properties. RAS provides status and availability data of factory floor PC locally via pop-up messages or stack...
Read More »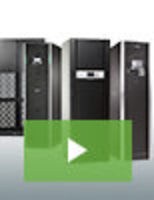 At 3Sixty Mission Critical, we specialize in maintaining the performance and uptime of our customer's mission-critical applications. Our services are comprehensive and designed to take on the entire burden of maintenance. Our "UPS as a service" is just another example of how we develop out of the box solutions to help our customers operate more efficiently; see our video to earn more.
Read More »