Six companies have licensed the IP behind the ISO 18185 air-interface standard. Axcess will use its Enterprise Dot platform to develop an e-seal tag. Aug. 14, 200 - RFID hardware and systems provider Savi Technology has announced the first six companies that have agreed to license its intellectual property (IP) for electronic cargo seals (e-seals) complying with the ISO 18185 standard. E-seals...
Read More »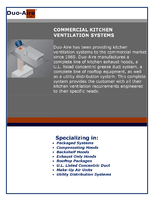 If you can't stand the heat, don't get out of the kitchen! Download this white paper and see how you can improve your commercial kitchen ventilation system.
Read More »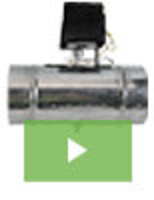 Alan Manufacturing has a long history of developing innovative solutions for HVAC applications. With over 1,000 product designs under our belt, we have gained a reputation as the go-to source for HVAC dampers, hardware, duct supports, zone control systems, and much more. Adding to this extensive list of achievements we now announce the release of our new line of Fresh Air Intake products. Designed to meet ASHRAE 62.2 standards, they are the most robust and high-performance product of their kind. See our video to learn more.
Read More »