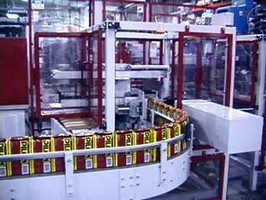 EDL provides technologies and engineering to configure systems that meet special and often unique customer requirements. We listen, study, design and deliver value." EDL's Tray Former / Loader System Last month, EDL started up a new integrated wrapping system for a customer that produces bricks of vacuum packed coffee. The system consists of a Product Collator, Tray Former/Loader, and Side Feed...
Read More »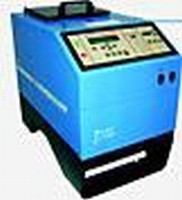 June, 6, 2008 Melton has developed a shift-proof system designed for carton product assembly. The application is engineered for sealing packages that contain small and dry particles, such as detergent powders and seeds. Melton's shift-proof application can reach high production rates with precision and clean cut off. The shift-proof application heads have snuff back systems that save adhesive and...
Read More »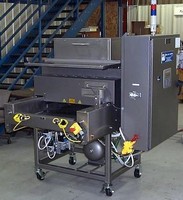 Model 18:30S can provide over 10,000 lbf on large format (18 x 30 in.), Silverstone-coated sealing platen. In addition to PLC for temperature, dwell time, and pressure management, sealer includes standard secondary IR thermal sensing that provides packaging engineers with platen temperature information needed during validation. Optional Direct Force Sensing System provides reading of force (lbf)...
Read More »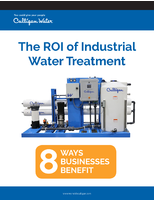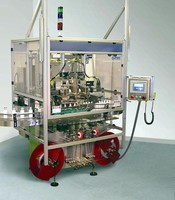 Operating with zero shutdown performance, 90 Series Shrinksealer can run as slow as 200 cpm to synchronize with slow-downs on processing systems. It can apply .375-3.0 in. dia and .625-8 in. high bands and monolayer and multilayer PVC, PETG, PLA, and OPS films, in gauges as thin as 40 micron, are compatible. Reel changeover feature allows second reel of material to be loaded during normal...
Read More »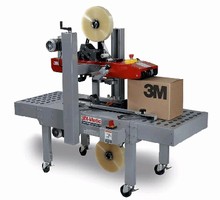 Suited for operations currently taping boxes by hand, 3M-Matic(TM) a70 features 4-belt drive for optimal traction and consistent sealing of uniformly sized RSCs. Unit includes 3M(TM) AccuGlide(TM) Taping Head 2+ for low-impact application of tape from 36-48 mm wide. Machine handles carton sizes from 6-21.5 in. wide, 4.75-21.5 in. high, and up to 65 lb.
Read More »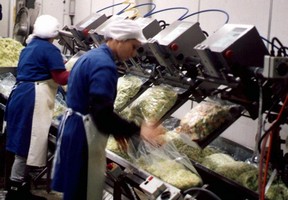 Featuring semi-automatic, push-button operation, AV Sealer heat-seals various bag sizes with or without vacuum and has optional gas flush cycle. Adjustable user programs set vacuum pressure, gas flush, heat sealing temperature, and seal time. Able to be switched over to handle different products and bag sizes in seconds without tools, changeparts, or mechanical adjustments, PLC-controlled unit...
Read More »
Dusseldorf, Germany Trade Fair Center, 24-30 April 2008 DUSSELDORF, GERMANY - (24-30 April 2008) - tna, a leading supplier of turn-key, integrated packaging and processing solutions for food production companies worldwide, debuts a series of six technical advancements for the confectionery, fresh produce, and the delicate baked and salty snack industries, that will make production more efficient,...
Read More »
V-301 series vacuum sealer features self-contained vacuum pump and automatic timer that also controls vacuum and sealing temperature. Utilizing 110 V outlet, it also offers automated vacuum nozzle IN/OUT motion. Ergonomic device has compact design for desktop operation and provides sealing dimensions of 2 or 4 in. wide and up to 11Â-¾ in. long. Timer and manual modes can be selected and...
Read More »
September 18, 2007 Small footprint, servo-driven machine delivers improved efficiency and sustainability Rocky Mount, NC - Ossid introduced today its new automatic 8000S horizontal thermoform fill and seal (HTFS) machine which delivers outstanding efficiency and package quality in an easy-to-maintain modular design. The servo-driven 8000S provides customers with an effective tool to improve...
Read More »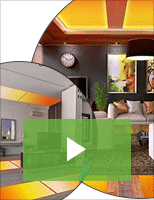 Carbontec's paper-thin radiant heating systems reduce energy consumption costs by warming the building surfaces instead of controlling air temperature. Check out our video to learn more.
Read More »