Typar-® Super Scrim(TM) spunbonded polypropylene media offers high airflow, and can be electrostatically charged. Available in weights from 1.75 to 8.0 osy, it is suitable for ASHRAE-related pleated or multi-pocket bag filters. It can be used as backing, facing, or between layers of filtration media. Super Scrim has no binders such as glue, adhesives, or acrylic to limit filtering area. It...
Read More »
This white paper provides and overview into choosing the optimal supplement manufacturer. Establishing your nutraceuticals company is a multi-faceted project.
Read More »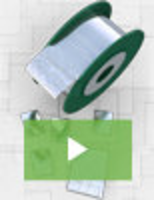 Indium Corporation has developed a new twist on traditional solder by developing a composite with a reinforced matrix internal structure. The result is a solder with increased strength and reliability. Check out this video to learn more about the mechanics behind the groundbreaking technology.
Read More »