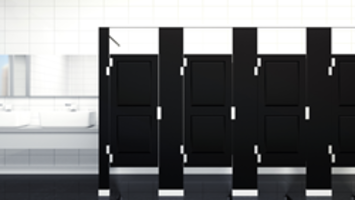 Hiny Hiders® Signature Collection from Scranton Products now includes six door designs and side panel options in warm-tone, bold and metallic colors. Hiny Hiders comes with overhead-braced, ceiling hung or floor to ceiling configurations and are designed for use in commercial rest rooms. Units are resistant to scratches, dents, writing/graffiti, and mold.
Read More »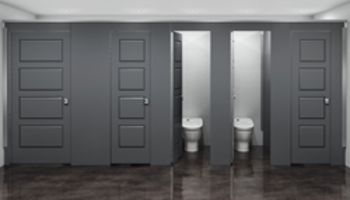 Aria Partitions™ are offered in 17 door designs, 7 panel designs and 27 rich colors and textures. Suitable for hospitals and institutions, product comes with shoeless pilaster and engraved design on doors and side panels. Units are manufactured for restroom privacy and beauty.
Read More »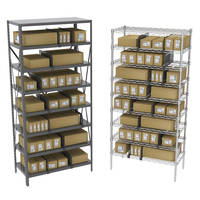 Compatible with shelf depths for Wire Shelving, Steel Shelving, and Storage Cabinet systems, Plastic Shelf Dividers neatly separate hard-to-organize and oddly shaped items. These vertical dividers, which are available in 12, 18, and 24 in. versions, feature front clip design that accelerates and facilitates secure attachment to shelves. Products accommodate needs of 5S Lean as well as other...
Read More »
Bradley Mills now offers powder coated steel bathroom stall partitions. Bradley has decided to replace their previously offered Baked Enamel to powder coated to allow their customers the added benefits. This switch to powder coated toilet stalls (
Read More »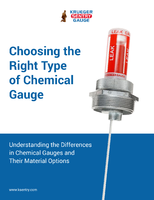 Understanding the Differences in Chemical Gauges and Their Material Options
Read More »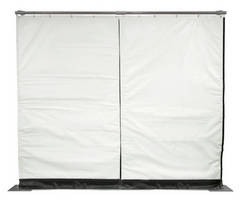 Energy Shield Insulated Curtain Walls come in- Stationary and Fold-A-Way varieties with respective panel widths of 72 and 60 in. Able to fold up to 1/3 of its size on industrial roller track system when not in use, Fold-A-Way features 3M Thinsulate Ultra Insulation. Stationary style uses foil laminated bubble insulation. Constructed with 18 oz coated vinyl, all curtains are double lock...
Read More »
MUKWONAGO, WI – The new Naval Hospital Camp Pendleton serves members of the military in a healing and calming environment – from the moment they arrive on the hospital's campus to the moment they leave. A four-story parking garage, featuring Banker Wire metal fabric railings and partitions, helps establish this calming environment and creates a sense of tranquility for patients. The...
Read More »
For those in need of pricing for upcoming restroom projects, Newton can help make your job easy. Newton Distributing offers all of the major brand name products for division 10 products such as Bobrick, Bradley, ASI, A&J, Global, Hadrian, Scranton and more. Newton is also a master distributor for Excel Dryer. Newton clearly has the experience and expertise to help any customer with their restroom...
Read More »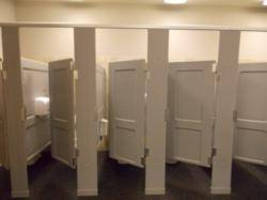 The Mid-South Ice Rink in Memphis, TN, selected Scranton Products' Resistall bathroom partitions to stand up to hockey teams and the general public. The owners of the Mid-South Ice House, with concerns about keeping the arena facilities in shape under rigorous usage, decided to go with Scranton Products' Resistall bathroom partitions to stand up to the crowds of skaters and hockey players. With...
Read More »
Designed to withstand abuse as well as facilitate removal of typical graffiti markings, Special-Lite® Toilet Partitions are resistant to denting, scratching, stains, and tampering. Each partition is custom fabricated for individual installations and carries GREENGUARD certification. Impervious to water, products will not rust, swell, or delaminate and can also withstand hose-down cleaning.
Read More »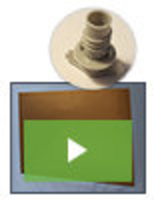 As a globally recognized provider of full-service packaging products and services, we have a history of developing innovative solutions that promote enhanced efficiency in a wide range of packing applications. Our new AIRSHIELD™ product is just another example of how we are helping food and beverage manufacturers to extend the life of their products. To learn more about this cutting-edge product, see our video.
Read More »