Built on 18 in. FMCW radome, Broadband 3G(TM) Radar provides navigation and collision avoidance in all weather conditions. System offers detailed views of surroundings at range scale down to 1/32 nautical miles and marks objects within 2 m of boat. Advanced clutter rejection virtually eliminates tuning, while InstantOn(TM) enables radar to power up instantly from standby. Drawing 19 W of power...
Read More »
Providing digital and analog signal processing, RD418D and RD424D Radar Scanners include low-noise receiver technology for small target detection, and 8 pulse width/5 PRF transmitter, which ensures optimum performance through every range scale. Auto GST technology automatically provides intelligent control of gain, sea clutter, and tune adjustments, while optimizing small target returns.
Read More »
There are multiple things to consider when choosing a bore configuration for your application. Check out this e-book to learn more!
Read More »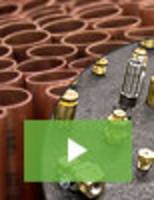 As a trusted manufacturer to customers across a broad range of industries, Key Gas Components is a premier provider of CNC machining and tube fabrication. Our entire organization is quality driven and customer-centric, with broad-based manufacturing capabilities that can accommodate the most challenging requirements. See our video to learn more.
Read More »