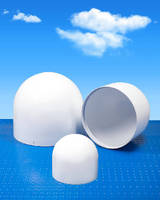 Available in sizes from 18 x 18 in. to 46 x 46 in. with thicknesses from 0.250–0.387 in., Custom Plastic Radomes conceal antennas and other electronic equipment, protecting them from elements and minimizing air drag. Weatherproof units are custom thermoformed from selection of plastics that will not interfere with signal transmission, including ABS, ABS 776/752, and ABEX 700. Radomes can be...
Read More »
Built on 18 in. FMCW radome, Broadband 3G(TM) Radar provides navigation and collision avoidance in all weather conditions. System offers detailed views of surroundings at range scale down to 1/32 nautical miles and marks objects within 2 m of boat. Advanced clutter rejection virtually eliminates tuning, while InstantOn(TM) enables radar to power up instantly from standby. Drawing 19 W of power...
Read More »
Featuring 4 kW transmitter and SeaTalkhs network port, 18 in. Model RD418HD and 24 in. Model RD424HD integrate with variety of Raymarine navigation systems. Units feature 48 rpm antenna rotation speed and dual-range capability, giving boaters view of short and long range radar images simultaneously. Bird Mode automatically optimizes radar tuning parameter for targeting flocks of birds, while 256...
Read More »
Providing digital and analog signal processing, RD418D and RD424D Radar Scanners include low-noise receiver technology for small target detection, and 8 pulse width/5 PRF transmitter, which ensures optimum performance through every range scale. Auto GST technology automatically provides intelligent control of gain, sea clutter, and tune adjustments, while optimizing small target returns.
Read More »
This whitepaper discusses key considerations for choosing a cleanroom equipment supplier: what to look for, types of cleanrooms & their standards.
Read More »
Providing critical protection in harsh environments, antenna radome enclosure offers UV stability and UL standard 94 V-0 flammability resistance. Relative dielectric constant changes from 2.46 at 800 MHz to 2.70 at 20 GHz, while loss tangent changes from 0.023 at 800 MHz to 0.0087 at 20 GHz. Various mounting brackets are available along with standard mounting plate. Feed through connectors are...
Read More »
Effective over 36 and 48 nautical mile ranges, respectively, GMR(TM) 18 HD and GMR 24 HD marine radomes identify precise location of targets. Both models utilize DSP, offer 4 kW of transmit power, and have 25-
Read More »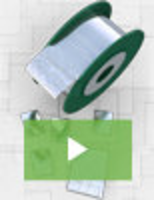 Indium Corporation has developed a new twist on traditional solder by developing a composite with a reinforced matrix internal structure. The result is a solder with increased strength and reliability. Check out this video to learn more about the mechanics behind the groundbreaking technology.
Read More »