Portable hardware-in-the-loop system creates efficiencies for customers AUBURN HILLS, Mich.- In a continuing effort to create efficiencies for its customers, FEV, Inc., announced today that it will show a portable hardware-in-the-loop (HIL) unit for system-level powertrain component testing at the SAE World Congress, April 16- 18 at the Cobo Center in Detroit, Mich. The FEV-developed MicroHiL...
Read More »
TROY, Mich. - Schaeffler, a global automotive manufacturer of high-precision products and systems for engines, transmissions and chassis applications, is proud to supply components, systems and technologies to nine of the 10 engines recognized by Ward's 10 Best Engines for 2013. According to Ward's, editors scored each engine based on power, technology, observed fuel economy, relative...
Read More »
BorgWarner Sets New Benchmarks in Increased Performance and Improved Fuel Economy with Three-stage Turbocharging Technology for Premium Vehicles AUBURN HILLS, Mich. - For the first time, BorgWarner supplies its innovative three-stage turbocharging technology for BMW's M Performance diesel engine, the most powerful six-cylinder in-line diesel engine in the world. Exclusively developed for BMW M...
Read More »
Designed for front and rear drive MBTs and IFVs, Power-Train System features battle-proven suspension system, which replaces torsion bars with helical springs, enabling operation in all terrains. Main automatic transmission transfers 1,500 bhp from engine to planetary final drives, which are mounted on front of vehicle. By optimizing mobility and maneuverability of vehicles, power train maximizes...
Read More »
Two key initiatives in this transformation are smart manufacturing/Industry 4.0 and the emphasis on increased collaboration between stakeholders.
Read More »
Siemens Energy has received an order to supply the power train consisting of the key components for the combined cycle power plant Dhuvaran Phase III, in India. The purchaser is the Indian Engineering, Construction and Manufacturing multinational company Larsen & Toubro Limited, which is constructing the plant for the owner, Gujarat State Electricity Corporation Limited. Delivery of the...
Read More »
MOSCOW, May 31, 2011 - Dana Holding Corporation (NYSE: DAN) today introduced new, integrated drivetrain systems that represent the company's deepening support for construction OEMs in Russia and the Commonwealth of Independent States. Dana presented its new Spicer-® TZL Series powershift transmission to the Russian market at the CONEXPO Russia at CTT 2011 construction equipment show here....
Read More »
MAUMEE, Ohio - Dana Holding Corporation (NYSE: DAN) announced today the launch of a new line of SVL(TM) drivetrain components for the automotive, commercial-vehicle, and off-highway aftermarkets. Designed specifically for older (post-warranty) vehicles, SVL products offer quality replacement parts for vehicles with lower usage cycles. The drivetrain aftermarket demands a quality product option...
Read More »
AUBURN HILLS, Mich. - ALTe Powertrain Technologies, the Michigan developer of a Range Extended Electric Powertrain, has signed a Letter of Intent (LOI) to form a joint venture with Inmatech, Inc., a leading developer of advanced supercapacitors, to produce and sell hybrid electric storage (HES) devices composed of batteries, supercapacitors and control electronics. The blend of supercapacitors...
Read More »
AUBURN HILLS, Mich., April 7, 2011 - ALTe Powertrain Technologies, the Michigan-based developer of a Range Extended Electric Powertain, is pleased to announce an agreement with Manheim, the automotive industry's leader in remarketing services, regarding the installation of ALTe powertrains in fleet vehicles. With this partnership, ALTe's fleet customers will be able to take their vehicle to a...
Read More »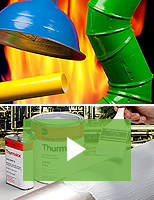 Dampney's high performance coating systems provide protection against extreme weather, chemicals, and corrosive environments for atmospheric, immersion, and underground applications. Check out the video to learn more.
Read More »