LEHIGH VALLEY, Pa., June 17 - Air Products (NYSE: APD) today announced that it signed an agreement with Saipem to provide its proprietary process technology and main cryogenic heat exchanger for Sonatrach's GNL3Z liquefied natural gas (LNG) project in Arzew, Algeria. Sonatrach will produce 4.7 million metric tons per year (mmtpy) of LNG, making the Arzew facility train the largest single LNG...
Read More »
HARTSVILLE, S.C. - Nov. 11, 2008 - A robust, peelable Ultrapeel(TM) retort membrane end from Sonoco, one of the largest diversified global packaging companies, that was specifically designed for heat-and-eat foods, is giving today's economy-minded, on-the-go consumer an easy and inexpensive way to enjoy a hot and healthy snack on the run. The first retortable membrane end closure manufactured in...
Read More »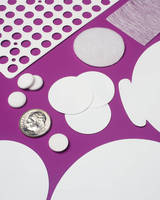 Custom Die Cut Membranes are suited for filtering fluids and gases or venting in medical, pharmaceutical, life sciences, and laboratory equipment. They are manufactured from PTFE, nonwovens, and other materials, and can incorporate intricate shapes, including narrow cross sections and close hole spacing. Membranes are supplied on rolls, with or without adhesive backing, and can be produced from a...
Read More »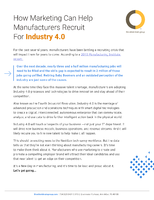 Manufacturers have been fighting a recruiting crisis for the past several years. This white paper offers tips for attracting new, young employees to your manufacturing company.
Read More »
FORT WASHINGTON, Pa. - April 10, 2008 - A reverse osmosis (RO) system from Severn Trent Services has been selected by Empresa Nacional de Energia S.A. (Endesa Chile), Chile's largest electricity producer, for use at a new thermal power plant in San Isidro, Chile, located in the central region of the country. The system, a three-module UAT(TM) RO filtration system combined with deionization and...
Read More »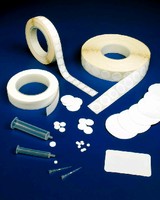 Suited for filtration and venting applications, Mupor PTFE Microporous PTFE Membrane features 3 dimensional pore structure that resists closure under pressure and comes in pore sizes from 0.5-50 Â-µm. Chemically inert and thermally stable, membrane is sterilizable by steam and EtO. Supplied on rolls with or without adhesive backing, product is available from 50-3,000 µm thick in...
Read More »
Manufactured from expanded polytetrafluoroethylene (ePTFE), Aspire(TM) micro-filtration and micro-venting media protects processes and equipment. Its microporous structure allows gas transmission while providing barrier from liquid, dust, and other contaminants for variety of industrial applications where liquid penetration resistance and dust control are important. Membrane can be used in...
Read More »
Siemens Water Technologies has been awarded a 2.6 million euro (4.26M AUD; 3.6M USD) contract by the Gippsland Water Factory Alliance (GWFA). Siemens will supply membranes and associated core system components for a membrane bioreactor (MBR) system as part of the new water factory project in the Gippsland region of Victoria, Australia. The MBR will treat up to 35 million liters per day (MLD) of...
Read More »
Designed to remove suspended particulate, bacteria, colloidal, and high molecular-weight contaminants from source water, Hollow Fiber Ultra Filtration Membrane System is also suited for pre-filtration of RO membranes. It removes all total suspended solids with more than 95% recovery ratio, and produces output water turbidity of less than 0.4 NTU. Ultra-pure UF membrane system operates at less...
Read More »
UAT(TM) Series BW brackish water reverse osmosis membrane filtration system will help reduce water shortage in coastal district of Can Gio FORT WASHINGTON, Pa. - August 28, 2007 - A reverse osmosis (RO) system from Severn Trent Services has been selected by Saigon Water Supply Corporation as the membrane filtration technology for a new brackish water treatment plant being constructed in Can Gio,...
Read More »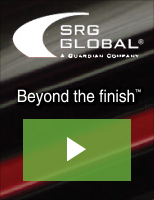 SRG Global's automotive coatings enhance the structural integrity of the finished part while also improving vehicle efficiency. Check out our video to learn more.
Read More »